Failure. That fear that makes all of us run, constantly hurrying in the rat race, getting less sleep, tossing and turning in bed at night, worried, worried that we might fail in making it to our dreams, our goals, fail our children and parents' expectations or worse, our own expectations from ourselves. Failure is a dirty, filthy word in our world. There with shit, vomit and death. Which is perhaps why no one mentions it, no one wants to remembers it, no one repeats or talks about it.
When I first started to write, I had many no-writing days, many days when I would stare at a screen, panic building up in the dark, squishy pits of my stomach, wondering if I could write, if I was writing anything that made sense to me, would make sense to anyone, would be good enough. I was ashamed of it. I felt that if I failed to write one day, one week or one month, that was it. I was a fake, pretending to be a writer, when I couldn't even frame one sensible word after another. It had to be me, right? For no one else seems to be going through this. No other author/artists/writer talks about this. I thought I was alone. And it did make it all the more miserable.
Now I am different. Or I hope I am. In not that I don't fail to write anymore, or that I have won over failure because I have written complete works of novels and have been published. No. I am different because I have realised how failing to write is ESSENTIAL for my writing. Failure, or as I think of it, my blackhole day, is the lifebreath, or the vacuum that comes before a flow of creativity.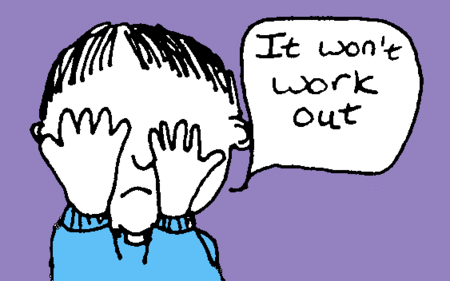 I fail at writing every day. Every damn day. I sit in front of the computer, my hands spread like claws on my keyboard and I do not know what word to put after the first one and then the other. Failure is essential to my creative process. I have to constantly fall right into failed words and failed ideas to know that they're not working. I stare everyday deep into failure's eyes, say hello there and know that like the heroine I am writing about, I too will come out of the frozen phase into creativity, into light, into success of expressing the story. But not today.
You have to, and I repeat, have to, fail to write and get over the fear in order to begin.
You have to do it every day, when you ponder on what word comes next, what the character says next and have no clue as to what that might be. You have to fail to write more than write itself. When you are writing, and you know it's all wrong and you have to delete it tomorrow and start afresh. You have to be wrong, you have to fail.
Wrote all wrong today in hope that tom something, someone, somewhere will strike me with inspiration to write it all right. #amwriting

— Shweta Taneja (@shwetawrites) June 27, 2014
Tweet in point. For only when you fail, when you stare into the blackhole for a whole day, does your creative mind bless you with a few words to express the story that has been dancing in your head. It's a blessing really and enjoy it, for tomorrow, in writing that fresh scene, you will start to fail again.
I write this not so much as a catharsis but also as a call out for those desperately looking for a sign of success while in the blackhole. Fail, it's okay. It's okay to drop a book unfinished, it's okay to write a completely wrong or badly sentenced scene. It's okay to fail. For you have to learn how to fail in order to succeed.
As a quote attributed to Thomas Edison says:
"I have not failed. I've just found 10,000 ways that won't work." 
And till now, with the grace of the muses who look after me for no apparent reason, I haven't had a day when the blackhole of failure doesn't dry up the next day when I am keying in words.
Keep failing, peeps!