Shweta Taneja is an award-winning, bestselling author who writes science and fiction for all ages. With seven novels, one science book and many short stories and articles, she is a leading voice in feminist science fiction and science communication. Her latest novel is Kungfu Aunty Versus Garbage Monsters.
Her science fiction story The Daughter That Bleeds (translated in French as 'La Fille qui saigne' by Mikael Cabon) was a finalist in the prestigious French award Grand Prix de l'Imaginaire (France) and won the Editor's Choice Award (Singapore) for best Asian science fiction. She has also received the Charles Wallace Writing Fellowship (UK).
She has been awarded the Publishing Next Award (India), was a finalist in AutHer Award (India) and Valley of Words Award (India) for her bestselling flipbook on Indian scientists, They Made What? They Found What? For The Skull Rosary, a graphic novel on India deity Shiva, she received Best Writer Award in ComicCon (India).
Her other bestselling works include graphic novel Krishna: Defender of Dharma and the critically-acclaimed fantasy fiction series Anantya Tantrist Mysteries. The latter and her novel How to Steal A Ghost @ Manipal have been optioned by an international film producer.
Her work has been translated to Romanian, Kannada, Italian, French and Dutch. She has given talks at Cartoon Museum (London), Eurocon (France), Worldcon (Dublin) and numerous places in her home country India.
Bibliography (Chronologically)
Books
Graphic Novels
Short Stories
'The Immortal Manifesto on Pursuing Self-Annihilation', Unnamed Anthology, Graphic India (TBP)
'My Zombie Babe', an Anantya Tantrist story, Necrobaba, SyenaGiri (TBP).
'How to catch tears in a river of blood', an Anantya Tantrist story, Unnamed Anthology by a renowned publisher. (TBP)
'Winning the 2550th Martian Triathlon', Sci-Fi Stories Flipped, Harper Collins India (2022)
'The Songs that humanity lost reluctantly to Dolphins', Multispecies Cities: Solarpunk Urban Futures, World Weaver Press (2021)
Bhaisaab's Bespoke Brides Boutique, The Antonym Magazine (2021)
'La Boutique de Mariées sur Mesure de Bhaisaab' (French version of 'Bhaisaab's Bespoke Brides Boutique'), Galaxies 72 (2021)
'The Biryani Choke', Eleven Stops to the Present, Intach (2020)
'Les Chants que L'Humanité abandonna aux' (French version of 'The Songs that humanity lost reluctantly to Dolphins'): translated by Thomas Bauduret, published in Galaxies No 66 (2020)
'La Fille qui saigne' (French version of 'The Daughter That Bleeds') translated by Mikael Cabon, Galaxies No 58 (2019)
'Granny Garam's Kitty Party', Magical Women, Hachette India. (2019)
'Agni's Tattoo' based in a collaborative blockchain universe, Whose Future Is It? (2018)
'The Daughter That Bleeds', The Best Asian Speculative Fiction, Kitaab, Singapore (2018)
'Obsolete Baby', Ground Zero Fourth Volume, MetaDesiComics (2018)
'Terror Strikes back', Celebrate! Holi, Hachette India (2013)
'It's a dog's death', Werehouse, Holy Cow Entertainment (2012)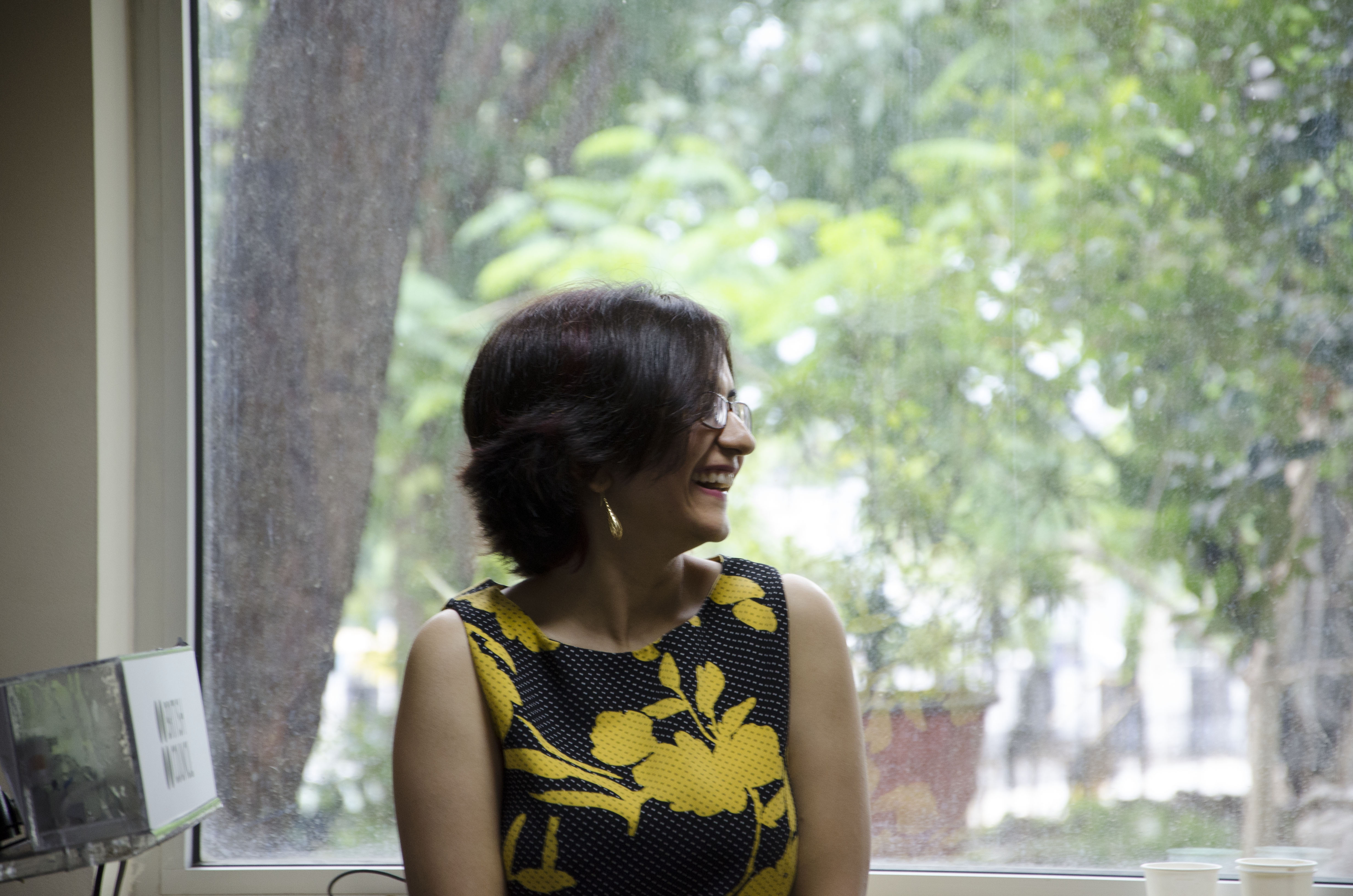 Awards and Recognition (Chronologically)
---
What inspires her
Gulmohar trees with their red blooms, a dead moth, a steaming hot cup of tea, the weathered lips of an old woman, or a crumpled newspaper. Her inspirations come from long walks in nature, morbid movies, passionate discussions on arbitrary questions of life, mythology and its perceptions.
Her heart thumps to the beats of Ursula Le Guin, Octavia E Butler, Roald Dahl, Lewis Carroll, Isaac Asimov, Terry Pratchett and comics by Neil Gaiman and Alan Moore. Her keyboard, family, husband and muse (who has the uncanny habit of dropping by when she's sleeping) help her bring myriad stories to life. She's still awed the magic it brings.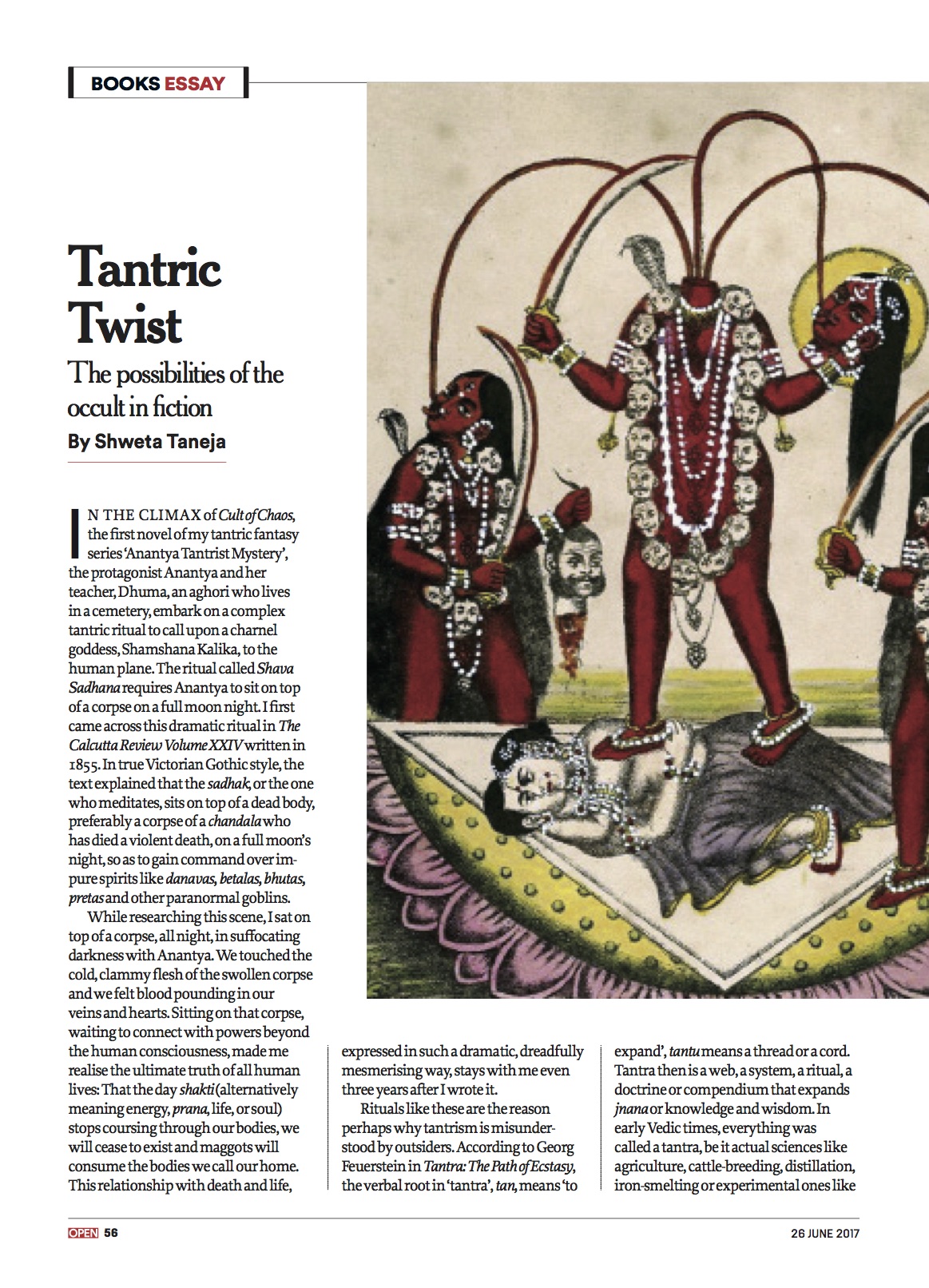 A few good media interviews
Read more exclusive interviews about her, reviews and media coverage of her books, here.
When Shweta's not writing fiction…
She is an avid traveller, collector of folklore and urban legends and pens down articles on travel, writing, science, technology and delectable conspiracy theories. You can find her work in Livemint, Discover India, Huffington Post, Scroll.in, DailyO.in, and Medium.
She also works on future of internet and open-source technologies as a brand and technology storyteller with startups. She cofounded Cooby, a startup building open-source, blockchain-based ERP systems in Switzerland and is an advisor to Buzz India, a financial empowerment NGO for rural women and constantly looking for the next interesting thing to do.
Professionally, she works with nonprofits: with Locus Science Fiction Foundation to raise funds for diverse science fiction and with Nature Conservation Foundation to encourage storytelling in environmental and climate communication. (LinkedIn)
Take her advice. For free.
For questions on writing, check out this section. She has build her career with the help of a lot of kindness and support of a community of writers, some much senior to her, and is always available to guide, help or generally connect with upcoming authors and writers. If you're struggling for words, work or looking for worldly advice about writing, the publishing industry or life, reach out to her on Facebook, Twitter, LinkedIn or Instagram.