Five artists came together in this graphic novel to bring out five transgressive stories out in black and white. A fantastic experiment for me. On top of it, it was nominated for The Best Writer and The Best Cover in the Comic Con India 2013 awards!
---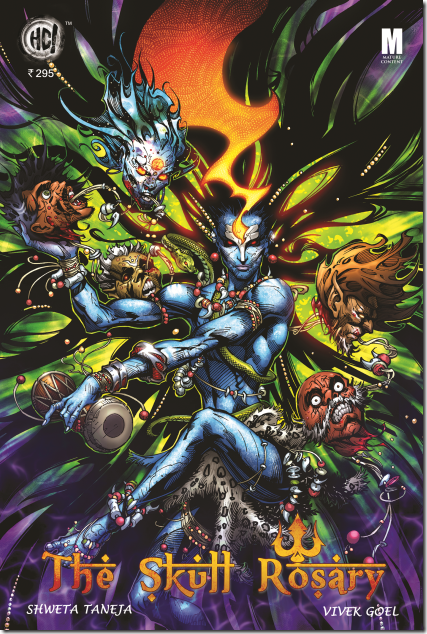 Buy from Amazon, Flipkart, Holy Cow Website
---
This is a 100-page graphic novel with publishers Holy Cow Entertainment based out of Mumbai. I have already worked with them on an earlier project, a horror comic titled It's a dog's death. Comprising of five short comics, this anthology is a new take on a mythology figure who has become quite popular in recent times. Shiva, Rudra, Mahadeva, call him what you will. These stories were chosen to show his destructive and creative sides. They went a little out of my control and hence have become mystical. I really enjoyed writing these and even go back to reading them when I want some inspiration. The graphic novel will be black and white.
All five stories are inspired by readings of Linga Purana (the older form of Shiva Purana). The idea behind all the stories, whether its dialogue or art has been to break down boundaries, both of the story and of the graphic novel as a structure. Brahma's fifth head explores the issue of incest and is written in verse form because rhythm touches the soul in a way language can never do. So you have poetry which was inspired by the Greek Furies in comic format. The blind spot is the story of Andhaka who is blind and consumes by the desire to see blood, so but so that he crosses all limits for sight. What happens when you get consumed by a desire? When it eats you up whole? What boundaries can you cross to get there? Prahlad's dream even explores what happens when power gets to a god's head and he becomes a weapon of destruction instead of mercy. Then there's the Oedipal complex, where a son desires his mother. That's in The Other Woman which also experiments with storytelling (it uses TV medium panels with a TV discussion and Narada as a TV Talk show host). In Goat Head, a king lets his daughter die because for him a status in society is more important and so brings about destruction for the civilization he holds dear. Here are some inside pictures of it.
Buy from Amazon, Flipkart, Holy Cow Website
---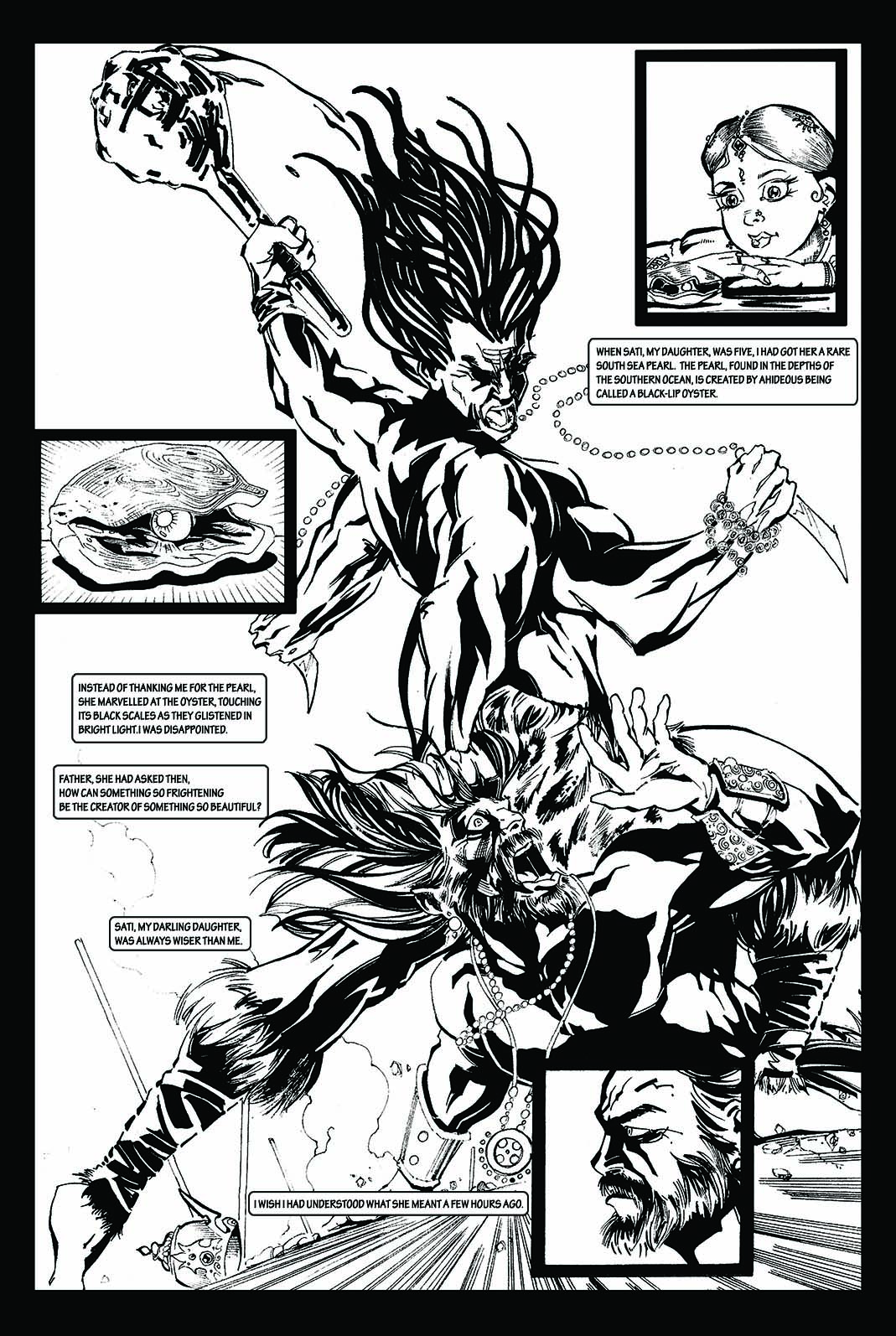 ---
MEDIA REVIEWS
"Different from conventional stories, good and evil are a lot more subjective in this book and it is not always about what is right, and sometimes it is about what is necessary. There are lessons and ideas to ponder, all of which is the mark of a good story." – Bleeding Cool, UK
"The Skull Rosary comes as a breath of fresh air….Five stories – each exploring ideas of wrath, revenge, lust and incest – proved to me that some mythological tales not only introduce us to characters who are heroes but also urge us to question prevalent societal rigidity which chooses to quote religion for shaming anything remotely 'unnatural'." – Bangalore Mirror
"The Skull Rosary shines light on Shiva's solutions to transgressions be it by a God or a human, explores taboo subjects and provides a perspective on the humane emotions experienced by a God" – The New Indian Express
"Curiosity about the darker side of Shiva, prompted author Shweta Taneja to explore the story of The Skull Rosary." – Mid Day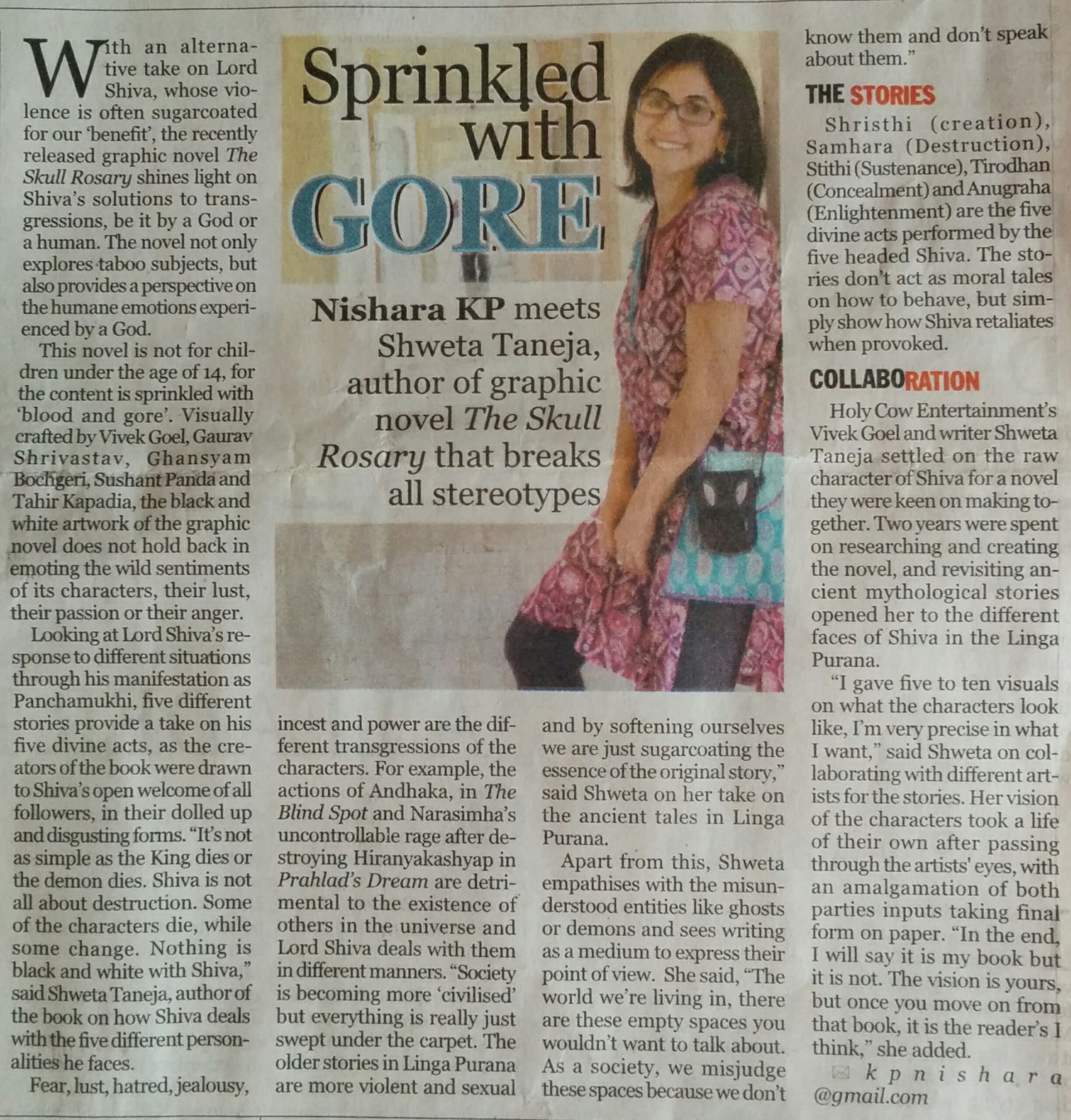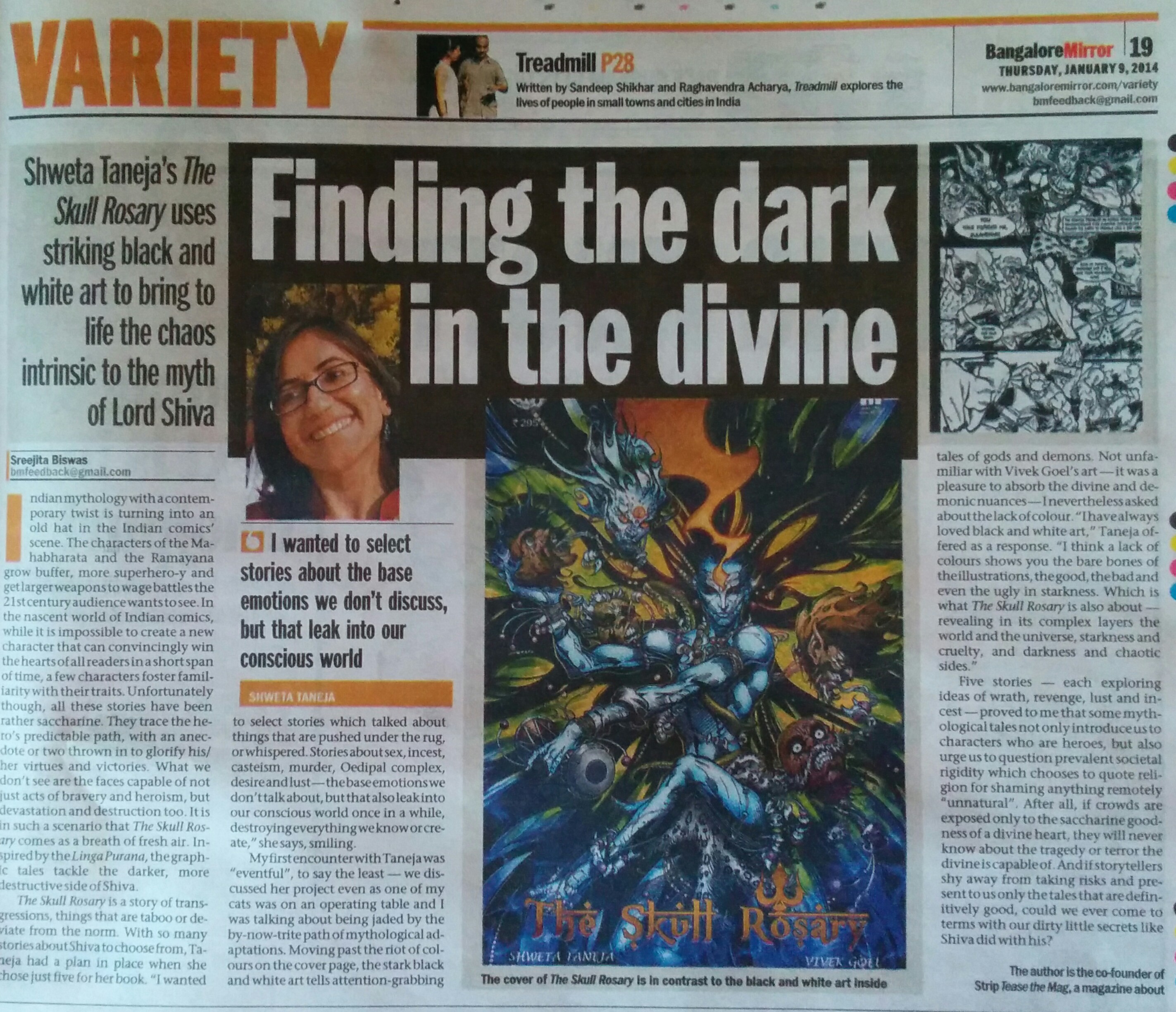 'The black and white art is beautiful and quite gory. The stories themselves are well written and presented in dark and twisted glory without any apology. ….A very entertaining read without a doubt.." – Sagnik on Goodreads
"This is one of the most well researched,written and inked graphic novel that has come out of the maturing indian graphic novel market." – Mrugank on Amazon
The thing that surprised me most was the use of swear words in a graphic novel. If I remember correctly, I haven't seen language like this used in any other comic series or graphic novel of an Indian origin. – Devang on Amazon
Buy from Amazon, Flipkart, Holy Cow Website
---
The book was launched in the Mumbai Comic Con. Check out the video here.