Tantrik detective Anantya Tantrist is back, smart-ass comments, dark mantras and all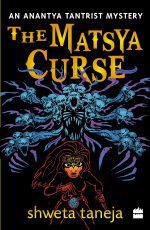 In Banaras, Bhairava, a black tantrik, sets out to win control of life through mass murder, aided by an army of pretas.In Delhi, a tribal supernatural melts to death in a five-star hotel on the same night that an ancient demonologist is murdered. All this while, the government and the Central Association of Tantriks choose to look the other way and gods, demi-gods, immortals and rakshasas all join Bhairava's army.
All that stands between the murdering bosses and the hapless masses is unofficial detective Anantya Tantrist, armed with a boneblade, a tote of mandalas and a cocky attitude. Just as she begins to see a pattern between a goddess selling art, a miracle-producing minister, an undead mob attacking a rock concert and her immortal friend throwing a tantrum, Anantya faces her most personal hell: her ex-boyfriend Neel has come back from the dead and is trying to kill her. He's not the only one, of course. A powerful rakshasi wants her head, a pair of demi-gods wants her blood and the trolls are trying to squash her to pulp.
She cannot even sleep off the exhaustion, because each time she drops off, Bhairava invades her mind, trying to consume it. Join Anantya as she faces her most formidable enemy yet in the ultimate battle for her mind and her city.
Order now.
---
REVIEWS
"A remarkable tale." – Anand Neelkanthan, author, Bahubali and Asura
"A fiercely independent tantric detective" – Deccan Chronicle
"Mystery, mythology and masala" – The Hindu
"A feminist thriller set in a supernatural world" – New Indian Express
"Full of action, adventure and the sass" – SheThePeople
INTERVIEWS
COLUMNS
---
WHAT HAPPENS WHEN YOU SEE YOUR BOOK FOR THE FIRST TIME. 🙂

A happy carousal of the book's launch, media coverage and other glee-ness. More on Bangalore launch at British Council.