I'm terribly, awesomely excited to announce my new novel for kids! It's a wacky ecopunk, sci-fi adventure and a book that's so close to my heart. The idea of the book came as I made Lego garbage monsters with my nephew (then eight years old, now going 14. That's how long books take to be made).
Two siblings take help from their mother's cranky, wacky robot to fight against all freaks of the waste. It's a whizzing, fizzing sci-fi climate adventure which will inspire kids (and adults) of all ages to become climate warriors, innovate and protect our environment. In stocks in your favourite indie store in 2-3 weeks.
At that time, it was just this amazingly cool dirt-fighting robot versus all those garbage monsters. But as I wrote it, the book also became a sibling story – of an older brother who wants to play by the rules and his younger sister who is a rebel. Even though they're so different, Lila and Kabir remain together till the end. The book's about fighting climate challenges together, as a family, a community, a people. I loved writing it and I hope it gives us hope and courage to face climate challenges head on.
Preorder now on Amazon and help this wacky sci-fi book become a bestseller. Or wait for your local indie bookseller to stock it and support them! Either way, do get it into the hands of a climate warrior.
---
What the ecopunk?
Wondering what's ecopunk? It's a new genre for a new generation of readers that combines environmentalism, science fiction and the punk culture. The stories written in the genre explore climate change, sustainability and human impact on the planet but emphasize on the resilience and determination of characters to create positive change and restore balance to the environment and save the planet. It's optimistic climate fiction!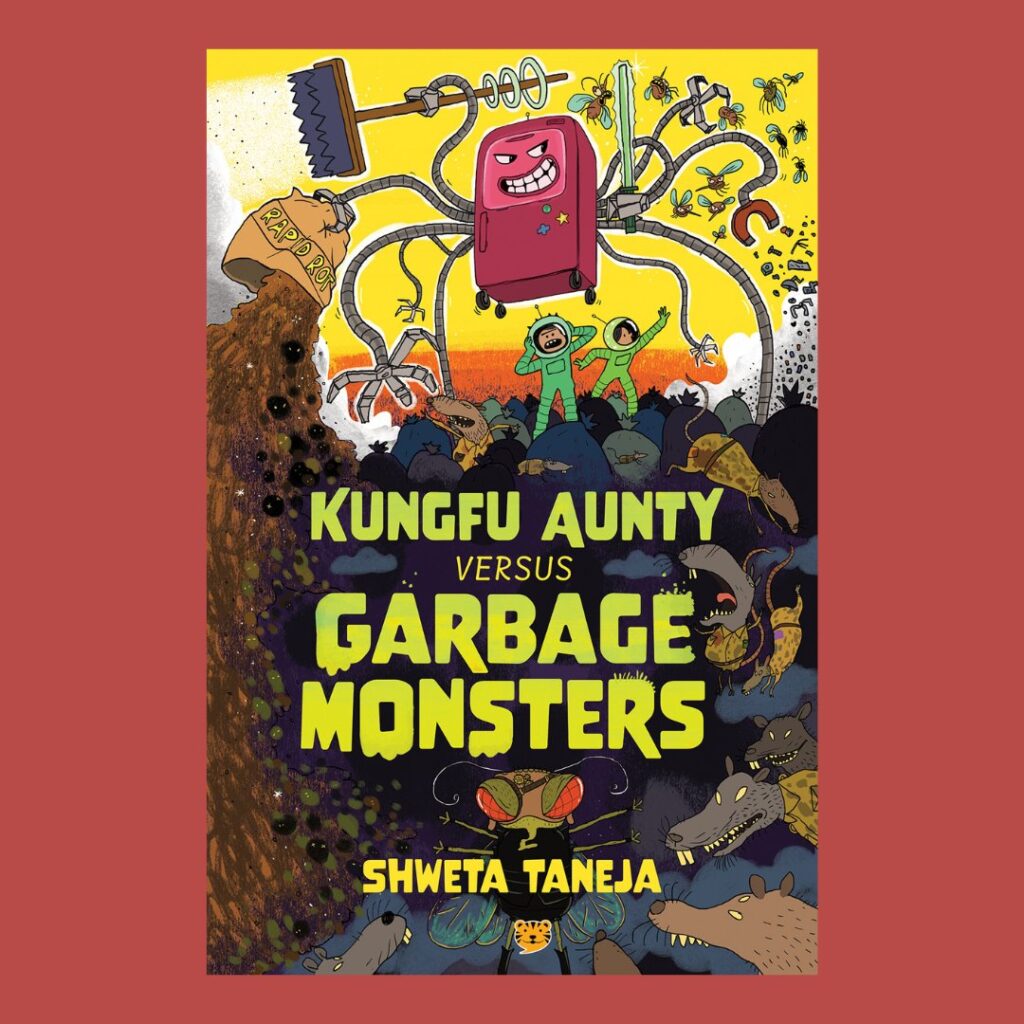 Pretty City is no longer pretty. Can Kungfu Aunty save it from the evil garbage monsters that rule it?
Trash Rajah, the dictator of Pretty City, has declared there should be piles of stinking garbage, unending pollution, foaming lakes and disgusting noxious creations everywhere. Trash Rajah and his garbage army need an endless supply of garbage to keep them alive—and the humans of Pretty City have to provide it.
But when their only playground is taken over by garbage monsters, Kabir and Lila decide enough is enough. With the help of their mother's cranky creation, Kungfu Aunty, and armed with an array of cleaning weapons, they plan a rebellion against all freaks of the waste.
Will the siblings be able to save their playground and their city from the noxious armies of Trash Rajah? Find out in this whizzing, fizzing, exciting adventure story.
Order now on Amazon
---