It gives me a thrill to announce the launch of Anantya Tantrist's third adventure, The Rakta Queen, yet another rollercoaster dive into the supernatural underworld of Delhi.
Anantya Tantrist is all that stands between Delhi and the forces of darkness.
A Kaula tantrik is brutally murdered by his chandaali slave. The same night, a group of university students lose their minds and perform an orchestrated orgy in front of the Vidhan Sabha metro station.
To get to the truth, Anantya Tantrist, unofficial consultant with the Central Bureau of Investigation, must navigate her way past muderous sorcerers, deadly chandaalis, an underground betting scam run by jinns, and a renegade aghori teacher.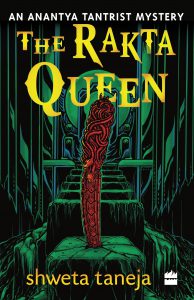 Continue reading

"New Release: The Rakta Queen"