It gives me a thrill to announce the launch of Anantya Tantrist's third adventure, The Rakta Queen, yet another rollercoaster dive into the supernatural underworld of Delhi.
Anantya Tantrist is all that stands between Delhi and the forces of darkness.
A Kaula tantrik is brutally murdered by his chandaali slave. The same night, a group of university students lose their minds and perform an orchestrated orgy in front of the Vidhan Sabha metro station.
To get to the truth, Anantya Tantrist, unofficial consultant with the Central Bureau of Investigation, must navigate her way past muderous sorcerers, deadly chandaalis, an underground betting scam run by jinns, and a renegade aghori teacher.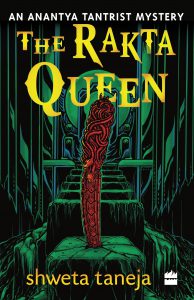 This book's my favourite of Anantya's adventures so far as it's where she faces not only a formidable enemy in a fantastic supernatural world, but also her mother's legacy, an ancient one, that falls heavy upon her shoulders.
The novel touches upon themes I've been thinking upon recently, which include what it means to be a feminist today, what freedom and democracy truly mean to us, and about authoritarian structures and the kind of society we want to become. All this through a rollicking adventure that explores the rich folklore and mythological past of India. I loved writing it every part of this book and hope you enjoy reading it as much.
Media Reviews
'Cult of Chaos is a crime-busting story unlike any other' – Asian Age 'The terrible, scary and horrific side of society is explored …' – Economic Times

'Supernatural thrills, horror tropes and enigmatic women in old havelis' – Mint
'Taneja sure knows how to get the readers hooked and hang in anticipation' – Mail Today
'Anantya Tantrist combines an illegal tantric, lost figures from Indian mythology and scary villains all battling it out in the Capital' – The Hindu
'Her protagonist is so well developed that she can have Twitter discussions with her' – The New Indian Express
'…the country's first tantrik detective novel, which also talks about the key issue of women's safety' – Business Standard
'Anantya is as sassy and independent as they come' – Factor Daily '…engages and piques your interest at every level …' – Deccan Chronicle
'Edgy thriller' – Mid-Day
'Anantya transports you to another world' – The Week
'The series brings alive the subversive and subaltern possibilities of traditional tantrism' – Deccan Chronicle