I plan to write things I have learnt in these workshops about me and about children, but this blog is about someone else's experience. The multitalented Yirmiyan Arthur, a volunteer for Bookaroo In the City who helped me in my first workshop at Sardar Patel Vidyalaya, Delhi, has written a beautiful piece about the workshop on the Bookaroo Blog . Sharing it here.
---
Detectives in the making
You put 220 students into a room and throw in a mystery to solve. Not just any mystery, a ghost mystery! What could possibly happen? Yup! Imagination running wild, so wild that it translates as sound and high-energy physical activity. Shweta Taneja is today's storyteller, the one responsible for stirring up such busyness at Sardar Patel Vidyalaya. She who looks nothing like how I'd imagined a mystery-writer to be (and for this I blame Agatha Christie), she who is queen bee with tiny worker bees fixated on her every word.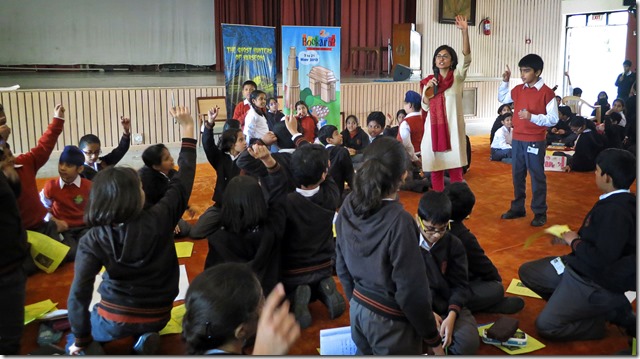 The children are aged 9-11, bouncy, excited and very eager to be the next ghost detective. They are divided into groups of 12 each and have now to help Kartik (the main character in her book) solve the case of Mrs. Banerjee's missing diamond necklace. 5 clues are handed out in successive intervals, each quickly digested. The bees then huddle together to discuss. Mystery solving is very serious business indeed!
Our little detectives did not disappoint. Several groups solved the puzzle, except we fell short of time and none could finish their illustrations. With the closing of the session was the opening of the floodgates, children rushing for an autograph from a real writer! Shweta seemed to be overwhelmed with all her little fans (which they were, by the time we were done!) hovering around her. I think she only just realized what a star she'd become

The school then gracefully thanked the writer (and I) with a card and a gift. Shweta ended with some words of encouragement and inspiration: a lot of curiosity and imagination is what she prescribed to the wide-eyed students.
Her book, 'The Ghost Hunters of Kurseong', is also a lesson in geography, as most children would need more than 5 clues to figure out where Kurseong is located. I bet the popularity of the hill station is going to shoot up ten-fold by the time the Bookaroo literature festival is done. Which reminds me, there were plenty of queries about the festival and I'm positive we will have a huge attendance from SPV. If that isn't cause for celebration, what is?
By Yirmiyan Arthur
————
Thanks Yirmiyan for such a beautiful review.