I have always had a soft corner for stories real, or make believe. So after much pondering over and ideating, I announce the launch of Creative Chat series for my website, where I will share experiences of authors meeting other authors, artists, storytellers and creative people. I am SO excited to present author Aditi De's experience of meeting the stalwart of Indian English writing, RK Narayan in the late 80s to begin my series with (thanks for allowing me to use this, Aditi!).
Aditi De is an author- editor- photographer- traveller- blogger based in Bangalore. Her 11 solo books for adults and children include gems like Multiple City: Multiple City: Writings on Bangalore (2008) and A Twist in the Tale: More Indian Folktales (Puffin India, 2005), Articulations: Voices from Contemporary Indian Visual Art (Rupa, 2004), The Secret of the Rainbow Phoenix (Scholastic, 2013). Find her online on her blog or order her books on Flipkart. Here's her interview with Mr Narayan.
It was in September 1988 that I had my only face-to-face encounter with Narayan. He was staying at his granddaughter's residence in Chennai's Thyagaraja Nagar area, where a room had been made comfortable enough for him to write in whenever he felt the urge.
On a memorable occasion, he was persuaded to take time off to autograph copies of his latest book, A Writer's Nightmare, at the Landmark bookstore in Nungambakkam. Through a long evening, he peered through his thick lenses, answering even the most obvious questions with good humour, occasionally sharing an impish smile as he tackled the long and winding queue of people seeking autographs at the store.
The next morning, I found Narayan relaxing in a crisp white shirt and veshti, the dhoti-like unstitched garment common in Tamil Nadu. Adjusting his hearing aid, he propped up his feet on a stool for comfort. He was in a good mood, though firmly resisting auto-analysis of his work, ever ready with off-the-cuff humour, constantly referring me to My Days.
"Do you know," Narayan chuckled at the end of our hour-long encounter, "there's a reviewer at the Indian Express newspaper who hates my work? He's a brilliant man, but thinks I'm a puritan. He thinks I live in a make-believe world. He's amazed that there's no sex in my books. It happens to everyone, so why should I write about it? I might as well write about how we eat, about how food progresses from the mouth to the gullet…"
Narayan's very ironic humour surfaced often during our conversation, of which I present excerpts off my tape-recorder to evoke a flavour of the man as he was in real life:
Did you find the going uphill when you decided to take up writing? 
Terribly. Absolutely. It was all frustration and struggle for more than 15 years. But how could I know it was going to be difficult until I experienced it? (Pausing) Have I wanted to change professions midway? No, no, no.
In today's competitive world, is writing a viable profession? 
Not for everybody. Somehow, I have survived. In our days, there was more scope for reading, creative work, expression. Not in these days.
What do you see as the basic tools of a writer?
Well, keen observation and competence to phrase what you see. There must be pleasure in mere observation of people and things. I don't mean deliberate observation, not taking notes. It is an instinct, not a conscious process. That's important. And, if you have the language, you can write about it.
Do you work very hard at polishing your writing skills? 
Always. I always do three or four rewrites, during which I throw out a great deal. There's no such thing as inspiration gushing forth to become a book.
Have editors shaped your work much? 
Not much. Only they have queries or doubts cleared. There may be slips which occur. I may not be very consistent with certain details, you know. They'll point these out.
What, to you, is a writer's social function? 
Well, to provide books for reading (prolonged laughter). So that everybody'll want to read, instead of gazing into space or watching television. But the books must be worth it. Not everything that is bound and written is a book. The reader must be captured. It depends on one's style and material. You really can't analyse it too much.
Have any writers captured you thus? 
Well, I can't think of many. Technically, I used to like Kipling. More recently, Somerset Maugham and Graham Greene. They have a sureness that attracts me.
Does your writing have much to do with memories? 
Probably, I don't know. But the whole business of writing is unconscious, even subconscious. Intuitive, not intellectual. Cerebral writing may be necessary, but not in a story. You get an almost organic substance in a story that is all subconscious. If one intellectualizes it, it turns into a formula. It is impossible to teach someone to write a play or a novel.
Have you read much Indian writing in English? 
(Pausing to consider) No…
Do you feel that standards of English usage in India are falling? 
Yes, the standard of English has gone down. As you probably notice, it is impossible to get around with English in places like Delhi. All over the country, there seems to have been a deliberate lowering of standards. The tussle over national languages has destroyed our zest for English. I sometimes receive letters which are ridiculous, you know. God knows what language they are written in!
Have you ever written in an Indian language? 
No, though I do read Tamil. Is that a handicap? I've never felt it. I've never thought of it.
Are your characters, including Swami, autobiographical? 
Yes, somewhat. In fact, all my books are autobiographical to some extent. I don't take notes or keep a journal, but my writing goes on. Everything is stored in a retrieval system (tapping his forehead with a smile). I'm not a methodical man. Once I've written something, I forget what I've written.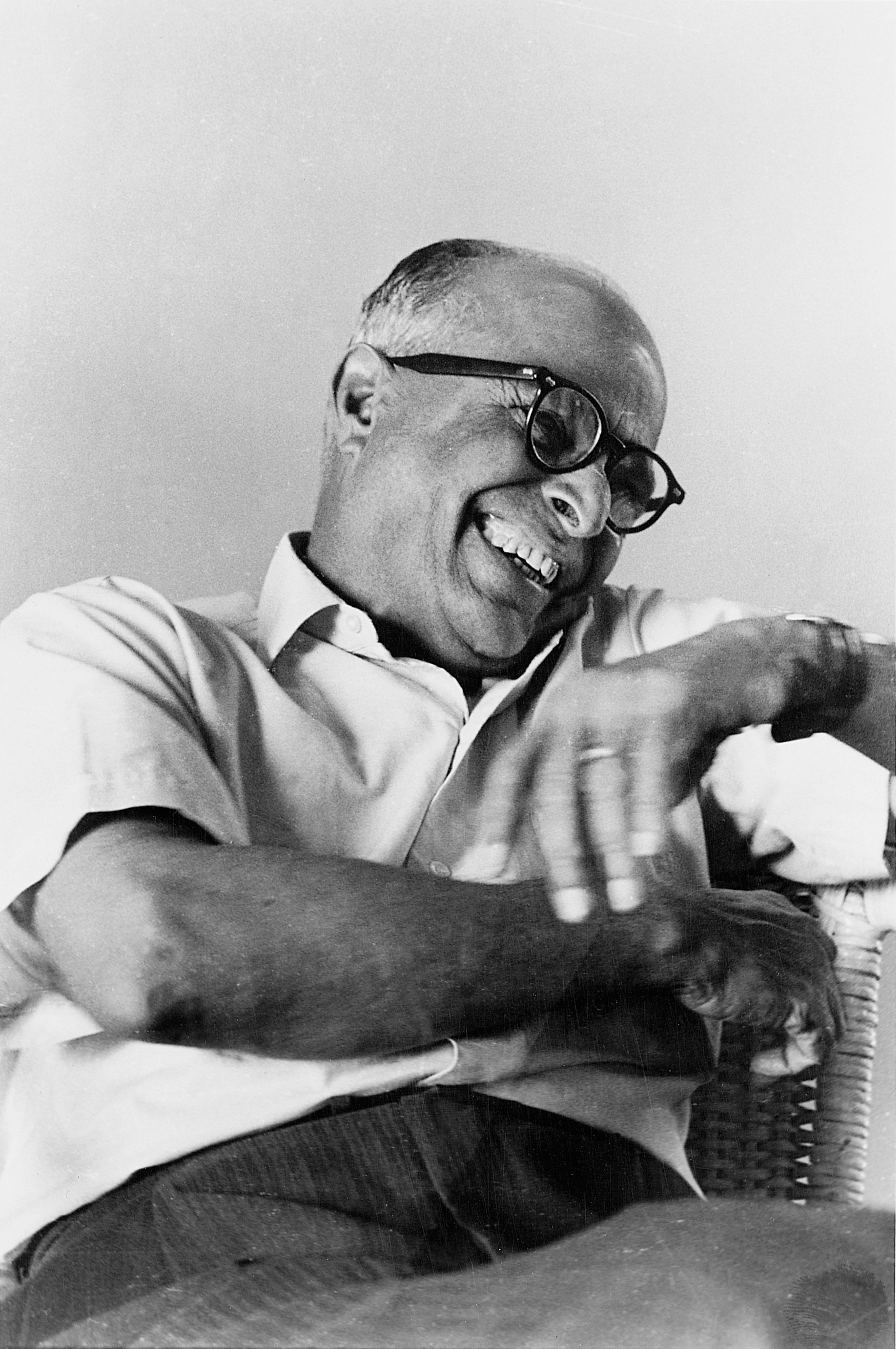 Would you consider Swami an Indian parallel to Tom Sawyer or Huckleberry Finn? 
It might be so because all children are the same. In childhood, there is universality, no distinction between an African child and an Indian child. Children have the same instincts, the same intuition, the same charm. Variations enter as childhood lapses and one gets into an advanced age.
We love the characters in your books for their foibles their whimsicality. Are these typical of Indian life? 
Almost all. I don't know any other life. I can only write of a society which I know intimately, that is south Indian life. It probably appeals to readers anywhere in the world, even in Finland or Bulgaria, where my books are popular. A universal quality is most important.
Do your books sell well? In India or abroad? 
You know, I am a publisher of my own books in India (Indian Thought Publications in Mysore). All of them keep moving all through the year. Each edition of 3,000 or 5,000 copies has to be reprinted every three or four months. I don't know who reads them, but they keep moving (peals of laughter). See, hardcover editions and first editions sell better abroad, but paperback sales are good here… (Thoughtfully) I would myself prefer a paperback.
Do you enjoy meeting your readers? 
No… because they say the same things. I don't like to be made conscious of what I've written.
Does it require great discipline to be a writer? 
There must be some regularity. I can't think of any rigid formula for a writer. I don't know of one. I carry on because I never think of it. But, when a novel is in progress, you try to write a certain quantity each day. I used to be able to write 2,000 words in a couple of hours. Now, I write more slowly.
As a writer progresses, does his writing get cleverer, but not necessarily better? 
Well, it depends. There can be no generalization in this profession at all. Each writer makes his own discoveries and has his own way of communicating these.
You've retold 'The Ramayana' and 'The Mahabharata' in your own words. What impelled you to? 
Because that was the great climate in which our culture developed. They are symbolic and philosophical. Even as mere stories, they are so good. Marvellous. I couldn't help writing them. It was part of a writer's
discipline.
Were you dissatisfied with the existing translations? Did the versions on TV have an impact on you?
I wasn't much impressed by them. I don't know Sanskrit myself, so I had a pundit read them out to me day by day. There is a literal, word for word, translation of The Ramayana, The Mahabharata, Bhagavatam, and everything by one Sen, a Bengali. Clumsy, but useful. I went through that.
There is so much in these epics, but not the stupid Ramayana you see on TV. This has trick shots, arrows flying and Hanuman leaping. I find it nauseating. It destroys all our own impressions of the language, and the characters have these heavy, portly figures (chuckling) that we can't accept. They've used all Gujarati or Sindhi actors, who've been brought up on vanaspati.
Very relevantly, somebody asked recently, "For 14 years Rama and Lakshman were in exile in the forest, so how come they're shown clean-shaven every day?" (Laughing) They grow their hair long alright, but at least they could have shown some shadows here (taps cheek). They look like Wiltech blade ads, no?
Were you content with the translation of your work on TV, especially the Swami series? 
They've done a fairly good job. I'd give them 80 per cent on that. First class.
You've been to the US several times. Were you teaching there? 
Well, the first time I was there on a Rockefeller travel grant. Afterwards, some universities called me to visit for three, four, six months ~ Berkeley, Michigan, Kansas… No teaching. I was just a writer in residence.
What did that involve?
Well, you just grace the campus with your presence. You must be available to faculty members and students who want to meet you (smiling), and you can attend any lecture, any assembly. Leaves you pretty free, you know.
Have these visits, in any way, affected your writing? 
No, why should they? I'm myself wherever I am. I'm not so very sensitive to surroundings. I keep to myself. I'm very strong.
I thought interaction with other writers might influence you…Not necessarily. Writers are very insular when they meet. They talk of agents and contracts and so on and so forth…
Don't they ever talk of writing? 
Rarely.
How would you judge your success as a writer ~ in terms of literary acclaim, popular adulation or monetary success? 
Brilliant ~ in all three ways you have mentioned. (Eyes twinkling) But it was not always so. It took years to build up.
If you hadn't been a writer, what would you have wanted to be? 
I wanted to be an engine driver originally and, then, I thought I might join medical college when I passed out of high school…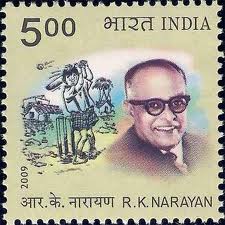 RK Narayan is one of the three leading figures of early Indian literature in English and is the creator of the famous Malgudi Days world. You can buy a few of his marvellous books on Amazon or Flipkart. In 2009 Indian post celebrated his legacy with this postage stamp.
---
Want more such tales? Head to Creative Chat for similar stories of authors, artists and storytellers.