Pinch me. I'm giving a talk at Eurocon.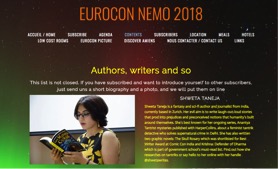 I'm writing this in a train, looking out at a blur of a rainy French day. On my way to Amiens from Paris. Amiens is a small town in France, where Jules Verne was born. A town where this year's Eurocon 2018 will be held this weekend, Europe's biggest convention for science fiction and fantasy. I'm heading there to speak about Indian fantasy and science fiction and my work. The amazing titles that are coming out of my country, the debut authors who are experimenting with a desire to read more Indian speculative fiction.
It's been a while since I've written a blog. There is a reason. (And this should've been another blog, but frankly I've become just too busy to write blogs. Hoping that would change soon).
Earlier this year, I said bye to my home for 10 years, Bangalore and moved house and husband to Zurich. It was in the middle of February and for a month, the only things I saw outside my window were cats and snow. I also met a lot of Swiss officials for the various paperworks it takes for two people to move in their 30s. (Yet. Another. Blog)
It gave me a lot of time to reflect and work. And travel. Quietly, without social media. It's freeing, by the way, to have a hiatus from the online world. You should try it.
I managed to set up new home, finish my third novel in Anantya Tantrist series (another blog on that too. Soon. I promise), wrote a 20 page comic about Anantya, with a fantastic artist and three short stories which are going to come up in various anthologies around the world. I also travelled two continents, to a lot of cities and attended lectures in ETH in Zurich and MIT in Boston.
As I said, there's a lot happening so I won't write many blogs. Or maybe I will, because there's so much I have to share! Well, I'm talking to a bunch of Europeans at the Eurocon. Telling them stories I bring with me to their country. Our stories. Wish me luck, peeps! I'll tell you later how it all went.
Meanwhile, leaving you with a fantastic illustration done for Eurocon. See you soon.