120 days of daily of writing
One year of planning
1,17,835 words
132 pages of words
472 kb size of a word document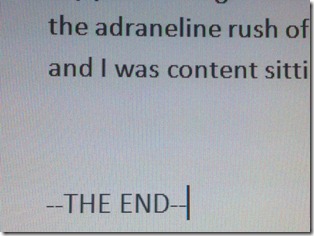 Like I always believed. Numbers don't tell you anything about the story. It is a beautiful story, btw, this one, of magical pubs and other places, creatures, people, humans and blood and violence and humour and lots of other things. It's funny, it's sad, it's Bollywood masala and sweat, all mixed up.
It's my second novel. It's a fantasy book, the one I always wanted to write. The one I wasn't sure I could. When I wrote the words 'The End' many emotions rolled inside of me. Elation! Ten years ago, I thought I couldn't even write an article. Two years ago, I was convinced that I couldn't write a novel, but wanted to try anyway. Tears of having to say bye to characters I have cared for since the last whole year. What happens to them after I write 'The End'? Their stories are not complete, not by far. They are still in my heart, thinking up of new adventures. I don't know if my body will have the strength to write more stories about them. Or if I will move on to others.
This novel is double the size of my last—not only in words, but also scope and imagination. It has made me bleed with sweat, frustration, tears, emotion, crazy depression and even hallucination. I have loved it and hated it. I was never bored in its vast middle, always living in a weird rollercoaster while writing every word of it (as my family and friends will tell you) . As I say good-bye to the characters I have created (did i?), nurtured, become friends me, I feel tears in my eyes. I am so proud of all of them. I find them funny, frustrating and fun. They are my gang, my friends. And the adventures they have, are mind-bogglingly crazy! Unlike my relatively boring life.
This is not the end really. It's just one-third of the work, as I experienced in my debut novel. This would have to be send through the vast drums of editing, rewriting, editing and some more rewriting. Novel writing is for madwomen. Finally, I know a profession, a career, a passion which suits my particular type of madness!
For now though, I am ready to party! And then move on…for a while atleast to the next fun thing.
–THE END–