2013 has been spectacular for me in many ways. Krishna launched in 2012 and has been flying off the shelves in 2013. My debut novel, The Ghost Hunters of Kurseong released earlier this year in August and is getting young fans. And I finish the year with the launch of my graphic novel, The Skull Rosary, which has one of the most spectacular covers I have ever seen (created by Lalit Sharma and colors by Yogesh Pugaonkar). Vivek Goel, friend, artist and owner of Holy Cow Entertainment, has done a gorgeous job with the book by using matted paper inside so that the black and white inks shine through. Don't believe it? See below. For an inside look, head to The Skull Rosary Page.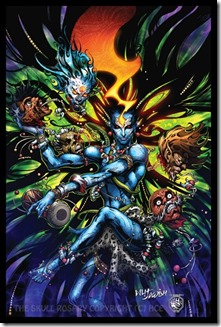 I have already written about what's inside, so wouldn't repeat it. This blog is about the fun I had at Comic Con Mumbai. Some friends came over, travelling especially to be at the book's launch. I remain super touched about them taking out time. And when there, I made some new, really nice friends as well. But then Comic Con's are all about that. Isn't it? Am super happy, as I bet you all can see from the pictures below. Overall, awesome fun was had.
And a rather shaky video of the launch with Mihir and Vivek.