It's taken me a month to post this. Reason: I promised myself that I'll finish Anantya's second adventure before any posts on my blog. So here I am, with a finished book (yay!) and a story for you. Tantric Tales happened on the last Sunday of April. The whole team of The Beehive, a collective of creative people, organised it, taking over over the event, setting up the venue, plannning Anantya's favourite drink soma-on-the-rocks, deciding and creating the graphics as well as the documentary which needed to be screened. It was really kind of the Beehive girls to go so much out of their way and do all of this! That's the Beehive team below.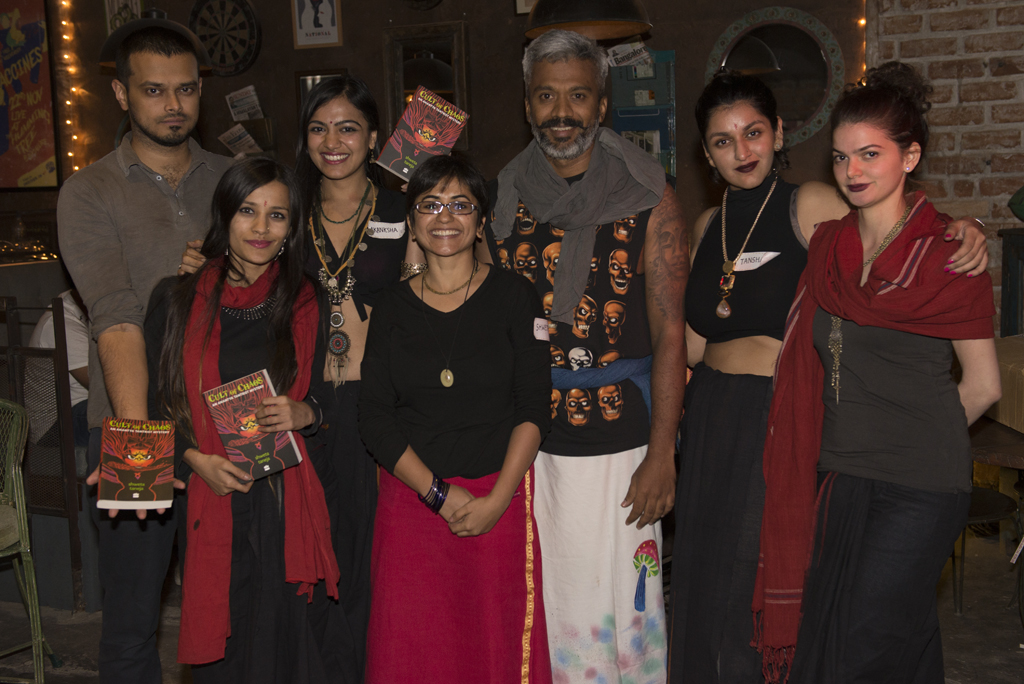 It was one of the funnest events I've done, a chilled out Sunday evening at a beautiful venue (if you haven't checked out Humming Tree, I suggest you go. Now. Nikhil, the introvert-ish sweetheart that he is, always has something fun up his sleeve.) where friends and strangers sat on carpets, high chairs, low chairs with a beer bottle in one hand and a pen in the other. For the quiz was on. Ashwani, the quiz master of the evening kept them all inthralled. I even saw a group of people who left their burgers, ON A SUNDAY, to solve a quiz. This city will never cease to amaze me.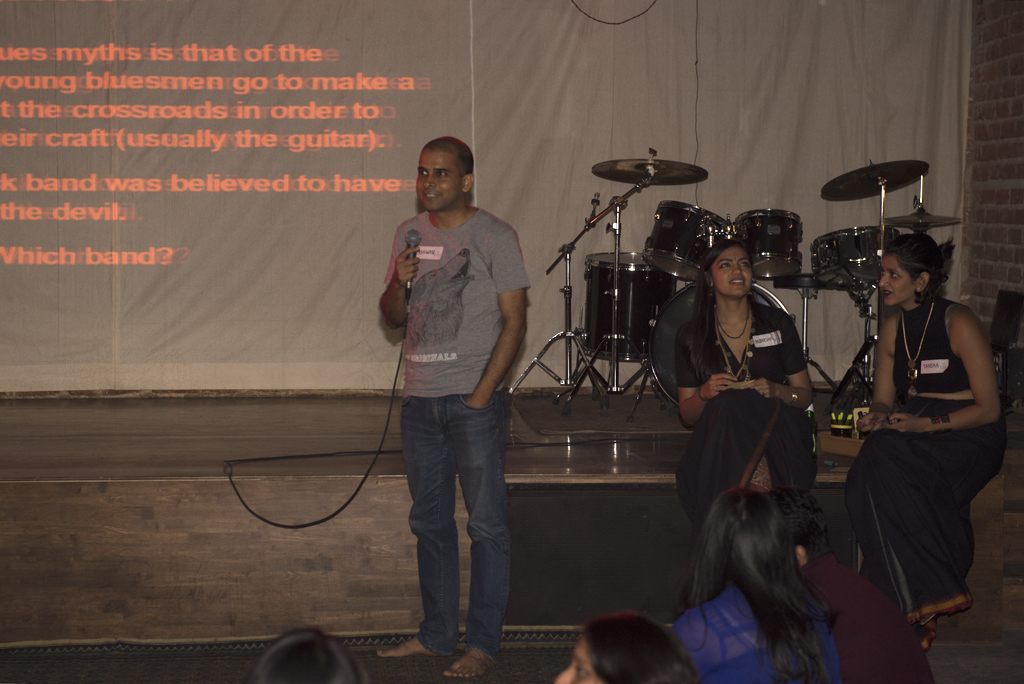 Then there was the fiery soma-on-the-rocks which Anantya would've gobbled in a second. I avoided it in case I fell into a giggly fit right before my discussion on stage.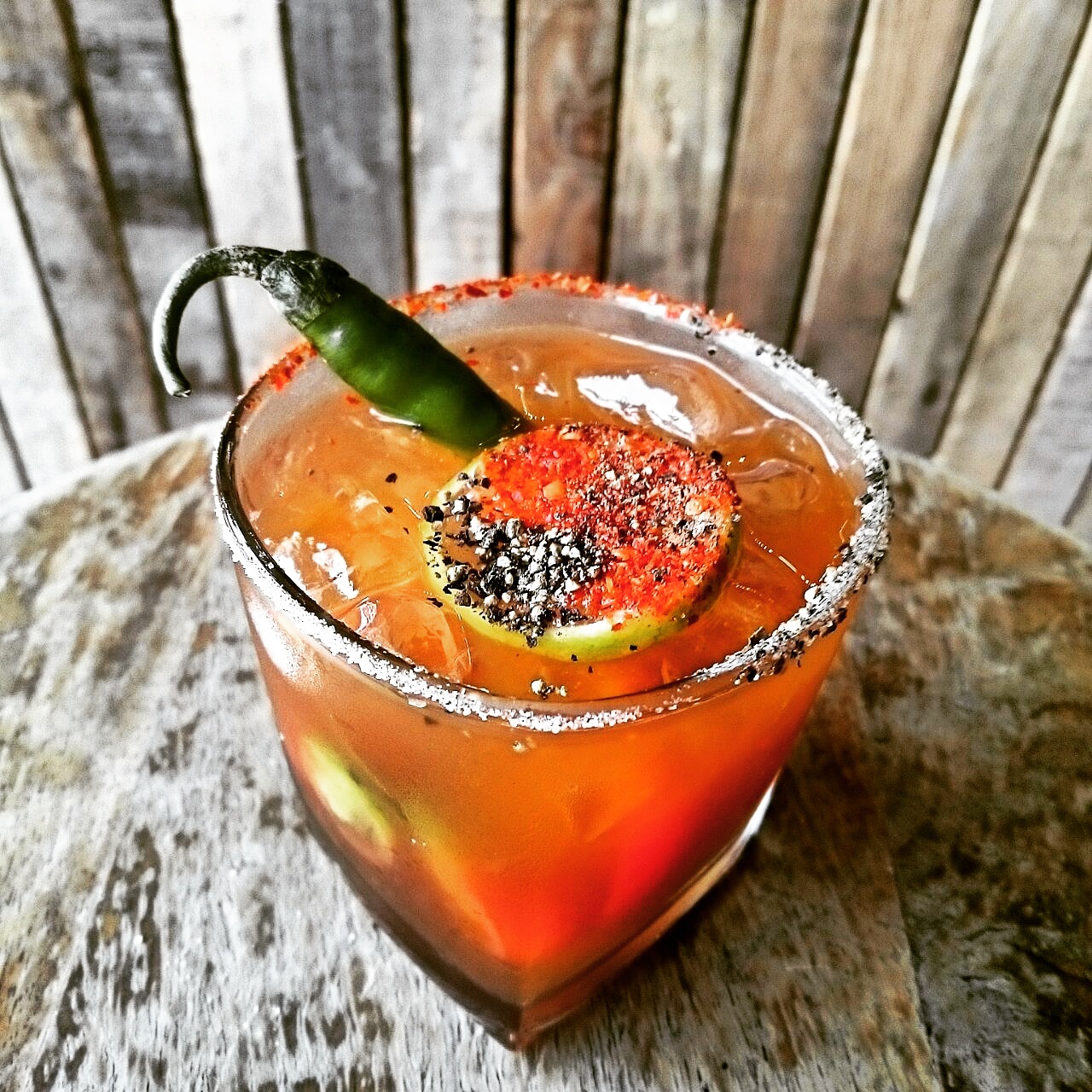 Post the quiz, I came up on stage, chatted with people, talked about researching on tantrism. Frankly, I could've done a better job, selling my book, talking about it, etc, but it was a Sunday and I'd just had a high after a successful book launch in Delhi and before that in Bangalore, so I became like the crowd at Humming, relaxed. The evening ended with a circle where a lot of people shared their stories and experiences of the paranormal and supernatural. Amazing, that part.
The event was covered extensively by the kind MetroPlus at The Hindu, Jagran CityPlus and  we all came on Page 3 of the Indulge of New Indian Express. Thrilling for a day, that. Leaving you with a few photographs (taken by the kind Prasad N).