Phew, Anantya seems to be getting a lot of attention. In a good, good way. Last week, three interviews came out about her.
New Indian Express called me after the book launch and did a huge interview on the book without misquoting me, except in one place (atleast the spellings were all correct). Thank you for kindness, people. Read it here.

Mail Today did an interview with me on Cult of Chaos. It was great because the interview came on the same page as Shashi Tharoor's new book's interview. How cool? And the photograph is taken by my brother who got super excited to see his work in papers too.
The first question the journalist asked me on Anantya was:
Are you an advocate of women empowerment? Comes out strongly in the book.  
And my answer was:
Is the aggressive, car-slamming, bullet-dodging alpha characters that Salman Khan or Rajnikanth play in their movies an advocacy of men empowerment? If yes, then I agree, that Anantya Tantrist is a female alternative to it.
However, I would say she is just another independent woman, who wants to live a certain way, by her own morals and ethics. To do that, in the archaic world of tantriks that she lives in, she has had to fight every step of the way, starting from her past to now. She fights for her freedom everyday.
I am an advocate of not a particular gender's empowerment but definitely advocate the right to choices, the right to decide the way you want to live, the right to dignity and respect for whatever choices you make. For men, women, any other gender, any race, any caste or any species.
The world Anantya inhabits is similar to ours in its inequality, division, hierarchy and arrogant abuse. Through Cult of Chaos which is set in a supernatural world, I've tried to explore how those in power exploit the powerless, be it in gender, caste, race, economics or in this book's case, a different species. It's the same play that all of us see in our society, where in spite of laws casteism refuses to die, women are branded witches by land-grabbing mafia and the middle class abuses their maids because they need the money.
It's not only about women, it's about everybody. It's about trying to achieve the impossible ideal of equality and freedom in a fantasy world.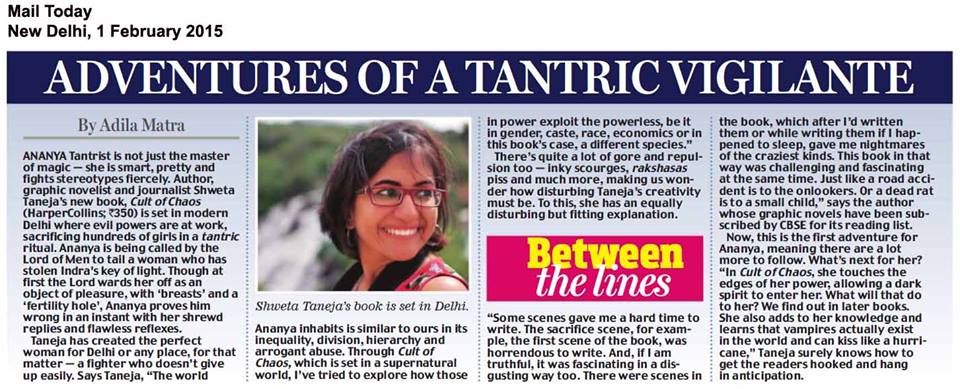 —————-
I've had passionate discussions with friends, family and strangers over what being 'feminist' means. And I've studied in Lady Shri Ram College, the homeground to 'feminists'. For some it is being men-haters, for some its wearing no bras or keeping hair short or open, for some it's this vague term I don't understand 'women empowerment', for some it's just non-smiling, angry women or lipstick bitches if you're politically incorrect, and for some,  they're ugly women or something. There are so many layers of misunderstanding around the word, that I don't want to be tagged with it. Really I don't. But it seems, you write a strong woman character and you might be tagged after all.
================
The last of the three interviews, the Newsnation one I found by chance. They'd picked up the PTI interview that happened a few weeks ago. Happy discovery that. I also found out that my book was a bestseller for a whole week in Modern Bookstore in Trivandrum. How do these things happen? Who are the people buying this book? I hope they tell me about it 🙂