Get off the couch, jump, shout and wave your hands about. Playing games is fun and easy says Shweta Taneja
Preview | Kinect for XBOX 360
Every time I try to play a video game, I give up in 5 minutes flat. I thought most video games required gruelling Six Sigma skills, a deeper understanding about matters such as which blue button to press from 21 and lightning-fast reflexes. Long story short, I'm not a gamer—but Microsoft's futuristic new Kinect or the Xbox 360 briefly made me one.
I attended a trial preview of the Kinect, a hands-free technology for Microsoft's gaming console, the Xbox 360. I was asked to stand before a small, shiny, sleek, black device placed under a 40-inch LCD television. An invisible sensor scanned me and then the Kinect evangelist smiled and asked me to play.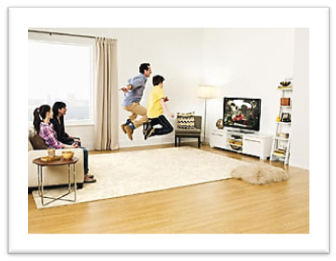 My mind flashed familiar warning signals.
For those who don't know it yet, Kinect is an exploration of what a hands-free technology can do to gaming. For one, it has no buttons. All it has at the front are three eyes. These are the three cameras: an X-ray sensor which scans you skeletally, an RGB (red, green and blue) camera, and a depth sensor to track your movement. Then there's a microphone that allows you to control the Xbox 360 with your voice (2001: A Space Odyssey style). Between them, the idea is to make your gaming avatar on the screen copy your body movements exactly on to the game. The cameras also enable easy logging into your account through your face (yes, it recognizes you) or your voice.
The game I played was River Rush, part of a package of games called Kinect Adventures. It's a simple game requiring jumping over rocks and bushes as you are going downstream on a raft. The great part was that I didn't need to learn whether the yellow or red button will make me jump. I simply jumped or crouched in unison with the stranger next to me, who like me had been invited to try out the Kinect. For a no-gamer like me, adapting to its motion and tracking was quite easy. In 10 minutes of game play, I had done four things—made friends with a complete stranger, had a blast playing a new game, got myself some cardio, and a cheer from the audience. As a bonus point, I got to see myself in action on the screen as the Kinect had been clicking pictures of me playing, jumping, diving and crouching all the while.
Like Nintendo's Wii before it, Kinect is aimed at "casual gamers"—people who have sedentary, busy jobs and want to connect with their children or find a fun way to get fit. It's meant for friends who want to hang out, jump, dance and do it all with a glass of beer in one hand (not to be used while playing) and then post their goofy pictures on their social networks.
This is the reason why most of the games it offers are like going on a joyride or visiting an amusement park. Kinectimals is a cutesy game which lets you choose a pet animal and well, pet it so that it coos to you. Though it's obviously targeted at kids, its graphics and sounds bring a smile on even the most hardened of cynics (do check out the tiger cub, if you don't believe me). Dance Central teaches you dance moves of different dancing styles. It's especially made for people who have three left feet. The Biggest Loser: Ultimate Workout is a fitness game for people who want to exercise using the guidance of a game. Imagine an onscreen tutor who guides and corrects you when you do a wrong yoga pose.
The box is capable of tracking up to six people (height, weight can vary) and be active for two. In fact, when I tried it, it was more fun to play it with someone—even a stranger—and a group to cheer you on.
One of the major drawbacks is the space it needs for you to play—anything between 6-8ft from your device and empty space around it is essential. If you have couches, tables, books or other people in this space, the device tends to become confused. Another issue is a half a second lag in the response of your onscreen avatar. The lag becomes more, the faster you move. The reason is that your movements trigger pre-animated actions for your avatar.
In spite of these teething problems, this controller-free gaming experience makes gaming easy, fun and adaptable.
The product is expected to be in India in December and will be priced approximately at Rs9,990 for the Kinect, and Rs22,990 for a new 4 GB Xbox 360 with Kinect.

Check out the complete story here