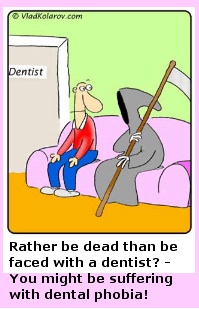 One early morning, while I was sleeping, a premolar fell off my upper set of teeth. It fell into the dark abyss of my mouth and lay there like a hardened piece of rock. 'Go back to sleep,' I told myself. 'It's just a nightmare.' Always happens after or before a dentist visit is due. But I woke up, my heart throbbing, as blood pumped into my brain. 'Only a nightmare,' I repeated to myself, rotating my tongue to check all my teeth. One was missing. It lay in my mouth, like a hardened piece of rock. I pulled it out, panic throbbing my brain. 'Oh shit oh shit oh shit,' I said aloud, running to the dentist.
'You just cleaned it last week,' I screamed at him. 'Why is it still dirty?' I showed him the broken premolar, looking at him accusingly. Its inside was stained with patches of yellow (remnants of my tea habit). He looked abashed but said nothing. Dentists!
I stomped over to the mirror, tears in my eyes. What would happen to my smile now? I do smile a lot. Will it become a horrible, witchy grin with a gaping blackhole for a tooth? Will I be a villain in my tale for the rest of my life? I opened my mouth wide, trying to see the damage. The gap was there all right, right there in the upper right side of my set of teeth. I was about to shut my trap up and cry when I saw the little white spot. Another babytooth lay growing out of the gap. I took a calming breath. Okay, so maybe it was just a pre-wisdom tooth that fell off and finally my wisdom tooth was making an appearance. Maybe my smile won't be ruined! (Yay!) The little tooth will grow up and fill up the gap and no one would know about this. It would all be forgotten like a bad dream!
But that wasn't it. I saw a little drilled hole above the baby tooth. Something, an instinct lying dormant in the back of my head, make me snarl. Out popped two sharp vampire claw-like teeth. One on each side of my mouth. I was shocked.
'Oh,' I said out aloud, shock making me close my mouth. The vampire teeth pricked my lower gum. 'Ouch,' I cried. I would have to be careful about this new set from hurting myself. I snarled a little bit more (for what else can you do when you are shocked?) and a whole other set of teeth grew up inside my upper set of teeth. I snarled some more and there was another set of teeth inside the new ones. A lower snarl showed me two sets of sharpened, pointed teeth alongside my lower jaw too.
'Oh,' I cried as the six set of teeth, two normal and four sharpened like a tiger's or a carnivorous animal's. 'Will I need to change my eating habits now?' I asked my mirror self. By now my conscious mind realized that it was all part of a nightmare. I woke up, my heart throbbing, as blood pumped into my brain.
The broken piece of tooth, plasticated now, lay in my palm when I opened my eyes.
===============
Ever since my first visit to a dentist, I have always got nightmares before or after a visit to the flatbacked chair of the tooth fiddler. This is one the happened on Sunday morning, a few days after a dentist visit. Once I woke up, I woke my husband up and recited the nightmare to him. He never really completely believed in the shudders I had before a visit to a dentist. Now he believes I am scarred for life.