< NEW RELEASE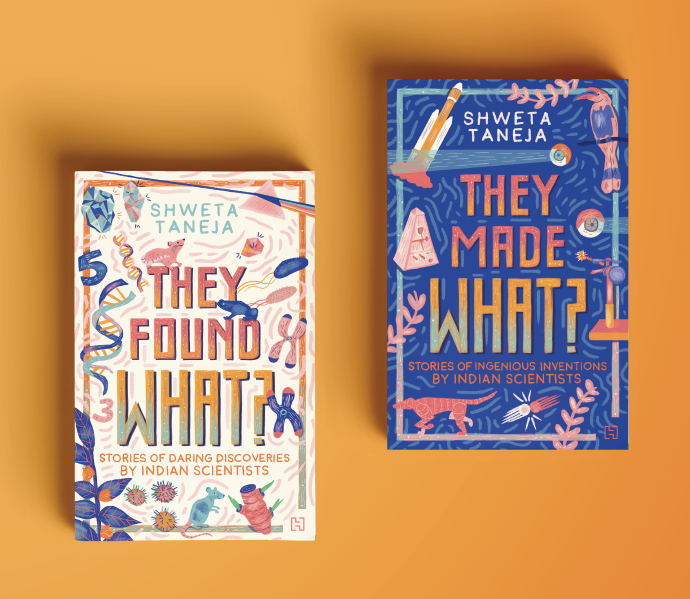 Do scientists wear lab coats? Are they assisted by robots? Can they ever fail at maths? Meet India's brightest scientists and read all about real-life incredible inventions and daring discoveries in They Made What and They Found What. A first-of-its-kind flipbook for kids. Buy now!
< NOVELS
Anantya Tantrist Mysteries
A unique, bestselling urban fantasy series with an indepth world based in Indian mythology and humour. Anantya Tantrist is a sassy, expletive-spewing tantrik detective who solves supernatural crime in New Delhi. The movie rights for the series have been optioned by a global production house. Anantya's first adventure Cult of Chaos is a heady cocktail of violence, tantrik magic, Delhi and darkness (Buy).
The Matsya Curse sees our fearless protagonist face her most formidable enemy, a black tantrik from Banaras (Buy).
In The Rakta Queen, a Kaula tantrik is brutally murdered by his chandaali slave, resulting into a shitstorm for Anantya, the only thing that stands between Delhi and the forces of darkness. (Buy)
---
Paranormal Thrillers
< GRAPHIC NOVELS
A bestselling graphic novel and a favourite for kids across the world, Krishna Defender of Dharma dramatises the supernatural adventures of Hinduism's blue god, Krishna. (Buy here).
The Skull Rosary is an indie graphic novel based on the darker stories of Hindu god Shiva. It was shortlisted for Best Writer and Best Cover Award in ComicCon India. <Buy on Amazon>
< SHORT STORIES
Short explorations of new worlds, weird characters, laugh-out-loud dialogues and wacky adventures. Shweta's short stories have won awards and been translated into French, Dutch and Romanian. Complete List.
---