I so don't like Death. I cringe everyday when I read about it in the newspaper. It happens to a stranger, unexpected when she's just eating her food. It happens when someone is happy and shopping. It happens after a prolonged, wearisome illness. Every time I read it, I imagine scenes of violent (and can I add rather imaginative) deaths in which I imagine the people I love (not me, for that's one thing I am not scared of, weirdly). I am not masochistic, I can't help seeing these images. And they leave my heart palpitating with fear. Makes me cringe. Every time.
I don't like to talk to Death. I ignore it when it is walking around my house. I wash my hands, again and again and I mutter mantras to protect myself from it. I pray that it would not happen to me or the ones I love. I don't talk about it to anyone. If there's a death in someone's house, I don't even go there. What if I or someone I love catches that disease? For Death for me (and if you let yourself accept it, for you too) is a disease. It's a disease that c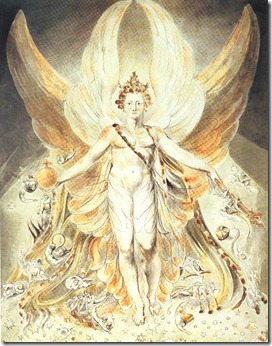 atches all of us humans in the end. It's there, hiding behind in the ends and beginnings of every story, every myth, every philosophy discussion that has happened and will happen. We live to question or solve the idea of death. Death is at all our doors, all the time. And it doesn't need an invitation to come inside. (My fingers are crossed so that I can ward off Death as I write this blog, for some primal me fears that it will come because I am talking about it).
Death is the reason that immortality is such a fascinating idea to me. Escaping the clutches of Death! Living on forever, without the fear of dying! The very idea to live forever! As a brain in a box of metal, or a Russian avatar, or as a spiritual immortal canoodling with hot naked bodies in a fancy heaven, immortality is a soma which I want to drink from, given a chance. Do you desire it? How much would you want to sacrifice, to give away in your desire of it?
A few days ago, I created a character who is an immortal in the new book I have been working on. I won't tell you who he is, but let me tell you one thing I realised as I was working on him. In all his dialogues, in the way he carried himself, the way he spoke, the way he just didn't laugh anymore, but stared, the way he didn't gobble up his drink, but just took a sip, as if he had all the time in the world—he just seemed so weary. That was one emotion that I could smell from him. He felt so tired. So weary of living. So exhausted with the idea of continuing to live, on and on, without refreshing himself, ever.
I was surprised at this. After all, he had a boon to live forever! Why wasn't he enjoying it? Why did it sound more like a curse to me? I hadnt planned on making him to tired, but that's what I could smell while writing about him.
My immortal character has made me thankful that I would die sometime in the future (small cringe). I don't want to live through a lot of things—like world wars, famines, deaths all around me. I don't want to live as the world completely changes around me—adapting again and again to these changes and continuing to learn, adapt, make new friends, see old ones die and wither away. I don't want to live carrying all experiences —failures, hopes, dreams, successes, sorrow, happiness—as a burden on my bent back.
Nopes, I don't want to do that.
So bye, bye immortality. I would rather start afresh. Feel differently? Tell me about it!