It's painful to sacrifice ghosts. I don't mean it allegorically in a past baggage sort of a way but rather literally. Let me begin in the beginning. I have been working on a kids' story for the past eight months trying to get it approved with a publisher. The story, which I was very excited about started out as a ghost story and now has converted into a kids' detective story. This is a result of about eight back and forths between me and the editor. Now, the editor has quit and I am working with a new one. This results in another series of back and forth. But this post is not about the shaping. It's about my ghosts.
My pretty, enthusiastic ghosts who were the ones who coloured the story with their pale sights. They were funny, sarcastic and made the story their own. I loved writing about them. They owned the story from Day 1. On Day 154th, they are being chopped out of the story. First it was just rendering them in the second half of the book, then they appeared only in the climax, now they are being completely chucked out. It's a simple case of the camel taking over the tent and pushing the poor owner out in a cold desert night. Sigh.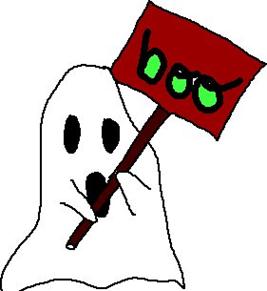 I, their creator and the one who loves them the most, is kicking them out of the 'real world' created in my fiction story. Making them story-less. Killing them off in cold blood. In other words, I am selling my ghosts to the suggestions by a series of editors who claim to know more about their 'audience', ie, the children.
So this is a post to give them a hug and bid them goodbye. Today is the day they die and are forgotten. But only by the story, not by me. I will bide time and create another story – this time exclusively for them. A story where they are the heroines. Till then, I know they have enough space in my imagination. At least they have no choice.
This post is my exploration of the pain of killing characters you have grown to love and associate with a story. It hurts. It's as bad as taking out a thorn from your hand. Or cutting your own limb, without anesthetic. I am emotional over this today.
My poor ghosts are quiet. They don't blame me. They just stand there in a corner, waiting. Biding their time. Another time. Another world. Another story. I owe it to them.
Now back to my story for the final kill.