Celebrities are fast realizing the power of social networks and are working hard to engage their fans. Here are some lessons you can learn from them…
Bollywood legend Amitabh Bachchan has over 8,117,186 fans on Facebook and 7,550,474 on Twitter; at any given point when he logs in to a social networking site, at least 7,550,474 individuals will listen to his opinions and thoughts. And they respond to him, all the time.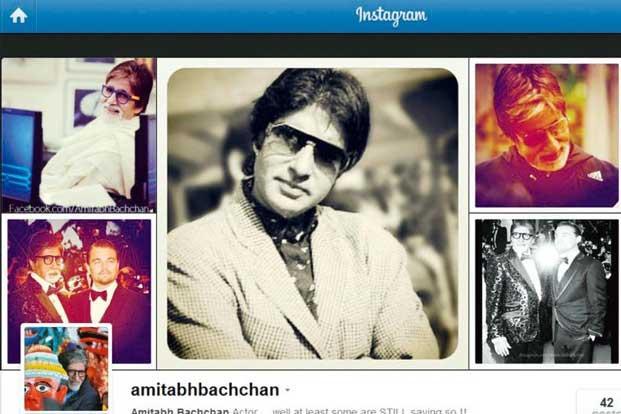 Social networks make it easier than ever for everyone to be heard, but real-world celebrities still tend to get the lion's share of attention. This fan following can make a new release a hit or drive attention to their favourite causes, if they can hold your attention more than other celebrities, of course.
"The superstars can share their personal experiences and get creative in terms of how they want to present themselves to their fans off-screen, which was never possible before," says Puneet Johar, co-founder and managing director of To The New, a digital services company which has just released a report that compares the activities of Bollywood stars on Twitter. Bachchan has the most followers, and the number has grown most quickly too, at 87% over 2012. Madhuri Dixit-Nene, Akshay Kumar and Sonam Kapoor are among the other fastest growing Twitter users. What can the rest of us learn from this?
Ashish Joshi, vice-president, digital, and business head, Fluence, a digital media company that handles the online lives of Bachchan, Salman Khan and Karisma Kapoor, believes that celebrities really want to increase their digital reach. "One aspect of it is to give something precious to the fans but another important thing that's there in the back of their head is brands. Advertisers today evaluate a celebrity's penetration on social media platforms while figuring out a fee for them," he says.
Keeping it real
Having a social media team doesn't mean someone else is tweeting for you. "We do not actively control a celebrity's Twitter page," says Joshi. "They have to do their own communication. But what our creative team does is build a story around his or her personality, an online story which our sales team can sell to brands as a concept."
Once they have figured out a story, they guide the celebrity and package the content well. Joshi gives the example of Tuesday Memoirs, a series of Facebook posts where his team uploads pictures of Bachchan from the 1960s, 1970s and 1980s on the sets, or during tours, and writes stories around them. "These stories are precious to his fans, it increases his reach on Facebook, and the artiste loves the engagement it provides," says Joshi. All posting, blogging, writing is done in consultation with the celebrity, though there's a team from Fluence which acts on his behalf.
"Web presence has to be personal," agrees Bunty Sajdeh, chief executive officer, Cornerstone Sport and Entertainment, which handles the accounts and online lives of sportspersons like Yuvraj Singh, Virat Kohli, Rohit Sharma and Sania Mirza, and actor Sonakshi Sinha. "That is what the fans want."
Updating Twitter, Facebook and other accounts every day, multiple times a day, is a full-time job though, and not something most celebrities can actually manage. "Virat Kohli tries to keep it personal but we have to help him out a little since he can't give the fans enough due to his busy schedule," says Sajdeh. His team keeps more than two million Twitter, and nearly 4.2 million Facebook, fans happy by ensuring all his activities are posted online, but Sajdeh says the actual interaction with fans remains strictly with the cricketer.
Ashwin Sanghi, author of The Krishna Key, who has over 100,000 followers on Twitter and nearly 600,000 on Facebook, says he uses automated tools to keep on top of social networks. He uses an app called Buffer to send updates he has saved in one block every half an hour. "I check Twitter only once in three days to check replies," Sanghi says.
He adds that it's important to distinguish between the networks. Facebook is for books and events, YouTube is for uploading lectures, Flickr has photos and Google+ has the articles he writes.
Faking it
The desperate desire for a fan following could lead a celebrity to buy followers and likes. A big following can make a difference, allowing a celebrity to get the next big project, movie, or sign a new deal. It can even make you a celebrity, as it did in the case of starlet Poonam Pandey(@ipoonampandey), who has over 450,000 followers on Twitter. "Paying for likes is foolish," says Sanghi. "An inflated following might satisfy your ego but will give you no sales. It's only valid for those who want to show to the world that they are being followed by a large number of people." Fake likes and followers are so prevalent though that Facebook, Google and Twitter are trying to filter them out.
"For a celebrity, the number of likes and followers is extremely important as most brands check out their online engagement," says Joshi, "but fake likes just doesn't make sense. The engagement and reach is pretty low and platforms like Facebook now show how many likes you have and what's the number of people who are talking about you." He believes that it's parameters like reach and engagement, rather than just numbers, that most advertisers are now looking at before signing a celebrity. After all, for a fan, the whole idea is to get closer to the star.
Show me the money
In October, Fluence, along with Twitter and ZipDial, a mobile marketing service, ran a campaign around Bachchan's birthday. A fan who wasn't on the Internet could give a missed call to follow the handle @SrBachchan and receive tweets on SMS. "It was a win-win situation, for us, the platform and the fans," says Joshi….
Read the complete story on Livemint.com