There are times when you write for the heck of it. And then there are times when you are forced to write just so that you can somehow, somewhere collect, announce, record, and remember all the awesome things that have been happening to you. This one is a latter kind of a post. A lot many good things have been happening to me and I am overwhelmed. So this is not to all you readers. This blog is meant for the future Shweta Taneja. Food for her days which will be bleak and black and without hope. For her to remember that good things and then bad things happen in a continuous cycle. And what's low will go up high soon enough.
The Skull Rosary has just been nominated for The Best Writer and The Best Cover in the Comic Con India awards. The latter was kind of obvious all thanks to the amazingness made by Lalit Sharma and colourist Yogesh Padgaonkar (hello, have you see the cover?). But the first one comes as a delightful, extra scoop of chocolate! Am basking in the surprised glory.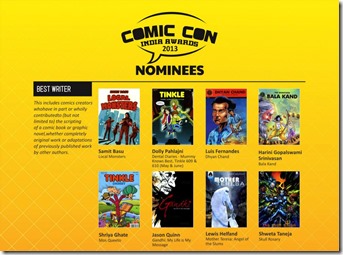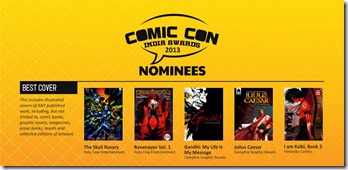 And there's more! Krishna, Defender of Dharma was named as a must read in CBSE School Reading List for 2013. The credit goes to the awesome artist Rajesh N, who quietly works in shadows on a desk in Campfire Comics.
Meanwhile, The Ghost Hunters of Kurseong, my darling novel which was never to have been written, has been written, has been published by the awesome Hachette India and is slowly cuddling up to little ones and warming up to people in the media. Read reviews spread across the web: Citizen Matters, Niticentral, The Hindu and elsewhere. I am also doing a detective workshop for it next weekend. Come over!
And even that's not ALL. I have managed to sign a three-book contract with a really, really good publisher for the fantasy book series which I have already dreamed to write and have written part 1 of. That will will be announced soon and separately. Meanwhile, I will go back to writing Part 2

But really, wow. Too much. Overwhelming.