Apps to crowdsource advice quickly and easily.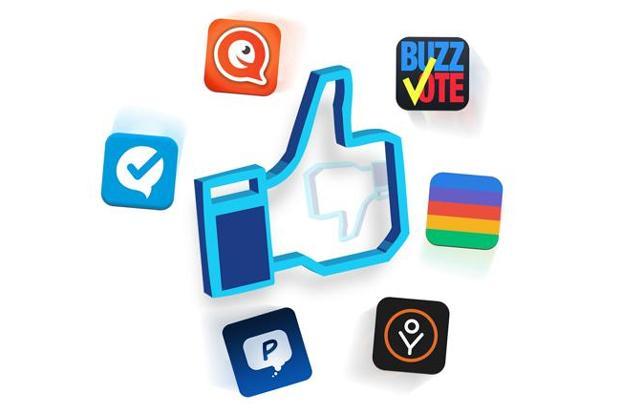 Cornflakes or eggs, Samsung or Micromax, or just picking the right kind of chair for the study desk—our lives are filled with choices. Some of the choices are easy to make, for some we need advice from our friends and family. That's where social polling apps fit in. "Social polling, micro polling, opinion gathering and opinion sharing is the most rapidly growing sector of the mobile sphere," says Gary William Mendel, co-founder, Yopine, a social polling app. "The reason is that we always have and always will love to give our two cents on matters great and small." These free apps use your existing social networks to offer answers on anything, from which colour suits you better to career decisions. So what are you waiting for? Get out and get an opinion on things or, if you like it better, increase your social quota by giving some free advice to your social connections.
imagoo
Lamborghini or Ferrari? Ice cream or cake? There are no grey areas in the world of imagoo, a social polling app launched in July. The app is a photograph-based poll that allows you to put two choices and ask your friends or the users of imagoo to choose one of them for you. The app gives you immediate feedback and vote on the comparison. You can also browse through other people's polls and vote for them through the app's feed. These features sound basic, but can easily keep people engrossed.
imagoo.com on iOS and mobile Web
Loop
Loop lets you make a poll and share it through Facebook, Twitter, email and SMS so your friends and followers can view, comment and vote to help you make a decision. Launched in early August, Loop allows you to create polls through an intuitive user interface. You can ask a simple Yes/No question, add in photos or make it a multiple-choice question. It's also possible to choose whether you want to make the poll public or private. Moreover, like Twitter, you can follow polls of other users of Loop which come to your feed and you can give your opinion on things. A button called Stats shows you the results in an infographic, which can be filtered by age or gender. The app is also integrated with Amazon and Pinterest so you can build a poll using products and pictures from both these websites. This makes it particularly useful for shopping decisions.
Loopapp.co on iOS and mobile Web
Pingstr
If you like to keep your poll private, then Pingstr is meant for you. Launched in April, the app "is meant more to poll your friends and family", says Parag Patel, co-founder, Pingstr. Once you create a log in and become a user, you can build a private group. Anyone in the group can send a "ping", a photograph and a question poll to the other members in the group. The other members get alerts and respond to the ping. You can also put the ping on Facebook to get answers from a wider audience. Patel and his team are already working on version 2 of the app which will have a complete makeover and will be launched next month.
Pingstr.com On Google Play, Facebook, iOS, Window Phone and mobile Web
BuzzVote
Have an opinion and can't help yourself from saying it aloud? Head to BuzzVote. It allows you to voice your choice and opinion on thousands of questions posted by others. Follow people who ask interesting questions, make a repertoire of questions yourself. Launched in March, Buzzvote also makes giving an opinion a game. The more questions you answer, the higher you go on the BuzzVote Leaderboard, which lists who has cast the most votes, gotten the most votes and asked the most questions. You can share your questions and answers on your other social networks like Twitter and Facebook.
Buzzvote.com On Google Play, iOS and mobile Web
Poutsch
Take democracy a step forward with Poutsch, an app which aims to crowdsource public opinion. The app was launched in June by a group of Parisians. Its name has been derived from the German word 'putsch', which means a political coup. The design is colourful enough for you to want to log on to the app and give your opinion. You can choose to follow celebrities or social enterprises of your interest so that you can answer their questions at your leisure….read the complete article on the Mint website.