Happy to announce that my hilarious, wacky short on a chudail get-together: 'Grandma Garam's Kitty Party' has released in Magical Women, a feminist fantasy anthology published by Hachette India and edited by author and friend Sukanya Venkataraghavan.
It's a fantastic collection that brings together authors writing on feminism from across the country, including powerful voices like Kiran Manral, Krishna Udaysankar, Sujatha SV, Trisha Das, Samhita Arni and may powerfu others.
You can order a copy on Amazon.
Blurb: Magical Women
A weaver is initiated into the ancient art of bringing a universe into existence. A demon hunter encounters an unlikely opponent. Four goddesses engage in a cosmic brawl. A graphic designer duels with a dark secret involving a mysterious tattoo. A defiant chudail makes a shocking announcement at a kitty party. A puppet seeking adventure discovers who she really is. A young woman's resolute choice leads her to haunt Death across millennia. . .
A compelling collection of stories that speak of love, rage, rebellion, choices and chances, Magical Women brings together some of the strongest female voices in contemporary Indian writing. Combining astounding imagination with superlative craft, these tales will intrigue and delight readers in equal measure.
Continue reading for excerpt from the story. Order a copy on Amazon.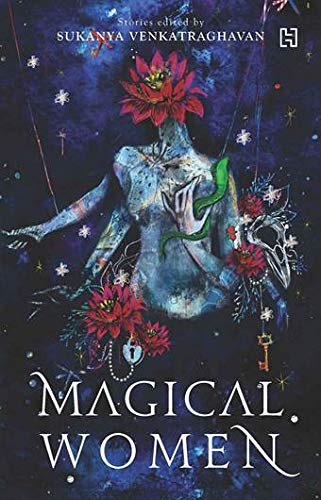 Grandma Garam's Kitty Party
Grandma Garam's Kitty Party is a hilarious story of what happens when a man gatecrashes a kitty party of chudails and a defiant young chudail makes a shocking announcement. I was rolling on the floor writing this tale. Excerpt after this tweet.
---
Excerpt from Grandma Garam…
The man tumbled, wheeled around and straightened, still shivering like a leaf in a storm, his eyes double the size of his shrunken balls as he ogled her knees.
'You stupid man!' she rasped. 'Leave, you're in danger here!'
'Please don't eat me,' he yowled, crossing his arms to protect his groin.
Jaanu groaned. 'I'm vegan,' she said, matter-of-fact.
He didn't seem to hear her as he fished desperately in his bag, his eyes glued on her. He pulled out a crumpled piece of
paper, opening it and squinting to read from it. 'Manshun jabaar chudail naale…'
'That wouldn't work on any chudail,' Jaanu sighed.
'…baa araa…' He stopped, frowning, looking rapidly from the paper to her and back. 'But…but I paid fifty thousand rupees for this junglee chudail totka!'
'Heard of internet scams before?' she said, toenadering towards him. 'And now you need to leave!'