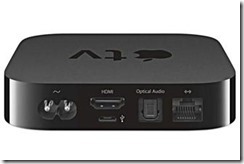 You have a movie on your smartphone and want to stream it on your television and watch it with friends. Six months ago, the only option you had to do this wirelessly was to go with a branded ecosystem. And there too it was a handful of choices—you needed the right receiver and the right device to make it work. There were a few open-source technologies which tried it, like DLNA by Sony, but they didn't really catch on in the phone-to-TV market.
But ever since late 2012, when international standards body Wi-Fi Alliance announced Miracast, an open standard to stream wirelessly to your TV, several new devices have been launched that allow wireless streaming. With even Intel adding Miracast to its WiDi technology, the choices for wireless streaming are fast becoming varied. If you're an early adopter interested in getting your hands on this technology, here are some devices to start streaming your HD movie from your phone wirelessly, now.
Apple TV
Though Apple TV is much more than a device to stream wirelessly, its AirPlay capability is one of the main reasons for its success. The device attaches to your HDTV with an HDMI cable (not included in the pack). Once attached, you need to put both your smartphone and Apple TV on the same Wi-Fi network. Apple will automatically pair any other Apple devices it sees on the network. An icon for AirPlay appears automatically within the video app you are seeing the movie on. All you need to do is click that on your smartphone and the HD video will start showing on your TV.
Like: AirPlay, Apple's display streaming system, works smoothly and is easy to set up.
Dislike: It works perfectly with Apple's built-in apps, but many popular third-party apps don't support it yet. This is changing, but for now you're really constrained by your iTunes library.
Supports: iPhone 4S, iPad 2, iPod touch 2 or later, which are running iOS 5.
Cost: Rs.8,295 at Apple Premium Resellers across the country.
Actiontec ScreenBeam Universal
The device, one of the few open ones, lets you connect both with Miracast- and WiDi-enabled devices. Once paired, you see the screen of your smartphone reflected on the big one. The good part is that ScreenBeam creates a dedicated wireless display connection to your HDTV so it doesn't require an existing wireless network or even line of sight, and you can use it without a router. The box comes with a receiver, an HDMI cable, a software CD and a user guide.
Like: Actiontec has included a USB transmitter for older laptops that are not Miracast-compatible. If you don't have Miracast you can still use the device by downloading the software and installing it on your laptop.
Dislike: You need to update the device software to connect it to Miracast-enabled products. For that, you need to email their customer support and wait for them to send you the update. Not intuitive or easy at all.
Supports: Miracast-enabled smartphones.
Cost: $79.99 (around Rs.4,345) on Amazon.com. Shipping charges extra.
Netgear Push2TV PTV3000
Push2TV is a dedicated accessory for wirelessly streaming content from other media to your TV. The device is only slightly bigger than your phone and doesn't need an extra power socket. It can be plugged into your TV's spare USB port to power up. Once you connect the device with an HDMI cable to your TV and switch on your Wi-Fi, hold the side button for 3 seconds so that it can come into Miracast mode. Then reach out for your phone and change your Display settings on phone to switch on the Wireless Display. Now select Netgear and pair.
Like: The pocket-sized device comes both WiDi- and Miracast-ready, which lets you pair it with a wide range of devices.
Dislike: Since the technology (Miracast) is quite new, there are slight issues in connecting the box with your smartphone. Expect updates and tinkering before complete success.
Supports: Miracast-enabled smartphones, including Samsung Galaxy S3, Note II, Note 10.1, LG Optimus G, Google Nexus 4 and Sony Xperia's various models above Android 4.0.4.
Cost: Rs. 5,632 on eBay.in
HTC Media Link HD
Media Link is an exclusive device from HTC to connect its smartphones to your TV. It supports full mirroring, which means you can see whatever's on your phone displayed on the big screen. The set-up is easy and to connect all you need to do is make a three-finger swipe gesture on your smartphone. To stop sharing, do a downward three-finger swipe. It's way cooler than a click. There's a slight lag in what shows on the screen versus what's on your phone, but that should be fixed in future updates, and doesn't matter for movies anyway.
Like: It allows you to multitask and use your phone even while the movie you are streaming is on in the dual screen mode. It also doesn't put much strain on the smartphone's battery life.
Dislike: It works only with HTC devices and that too only high-end ones.
Supports: The HTC One series.
Cost: Rs. 4,215.99 on in.mobilefun.com
Read the complete story on Livemint website.