More and more people are using their cellphones as computers, and if you're carrying a "computer" in your pocket, why not put it to work? A phone isn't always a good replacement for a computer—good luck filling in giant Excel sheets on a 4-inch screen—but there are some ways in which phones can really simplify your work life, or just take a little of the stress away. We look at new apps that can bust work stress.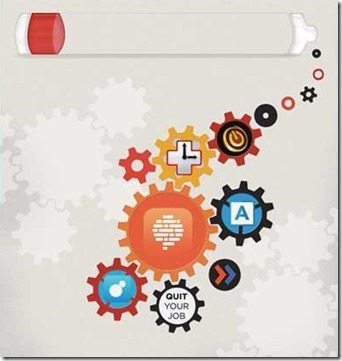 RescueTime
If you've ever had a day where you go in with 10 items on your agenda and end with all 10 untouched, then you need to look at this free app. RescueTime helps you track how you're using your phone, and can be used to identify the major distractions that keep you from getting work done. RescueTime is a popular app on Google play, with over 700,000 downloads, and its iOS version is expected to launch in February. The app is simple—all you have to do is install it and it will run in the background. You go about your daily usage without having to check the app, and whenever you want to analyse your phone usage, just open RescueTime and you can see an efficiency score that helps you easily track your progress in cutting down on distractions. RescueTime will tell you which apps you've been using, how much time you spend on each, and will also track phone calls, so you know exactly how you've been spending your time—it even lists your top distractions. There's also a handy stopwatch to use in meetings or during exercise.
RescueTime is free with some paid features at $9 (around Rs.550) a month, on Android and browser. The iOS app will launch in February.
Talygen Business Intelligence
Location awareness and being online all the time make phones a great way for employees on the road to check in with their office. Talygen is a paid app that helps employees manage all the paperwork without any paper, so they can focus on the important parts of their job. This tool is useful for small business owners who want to keep track of on-the-road employees or time spent in a client's office. You can track billable time, work on customer relationship management, expense accounting, manage leave and many other administrative issues.
The app, launched last month, makes it really easy for your employee to check in on the go so that you, as the manager, save time tracking. Everything is organized on the cloud and the data can be accessed through the app. The data can also generate an advanced report which can then be exported into a PDF or an Excel file.
Talygen, $20 a month onwards, on iTunes, Google play, Windows Phone and BlackBerry.
Agent
Is your smartphone's battery always dying on you? Install this personal Agent, a smartphone app which does little things to make your phone, well, smarter. The app runs in the background and saves the battery by automatically dimming the screen when your battery signals low, automatically silences your phone during meetings, remembers where you parked your car and puts your phone to auto-respond when you're driving. It also allows only urgent calls or messages when you're sleeping. The app is triggered by Bluetooth and it can also read your SMSes aloud or send automatic responses, or reply to a select list of contacts only. It was launched in November, and the makers are adding more features. "In 2014, the app will be able to call you a cab right before your next meeting," says Kulveer Taggar, CEO and co-founder, "or pay for your coffee before you get to work."
Agent, free on Google play.
Limitless
Limitless is meant for anyone who wants to manage their time on devices better. The productivity tool, which works on Google Chrome, gives an update on how much time of the day was spent productively and how much of it on Facebook and Twitter. "We are a behavioural science company that helps users get work done," says Anup Gosavi, co-founder, Limitless. "If the person has the desire to become more efficient in how they use their devices, Limitless can be the right productivity companion." The tool categorizes the various websites you visited on your Chrome browser and differentiates with tags like work, social and other learning. At the end of the day, it shows you the percentage you spent in each of those sections. It also has nudges, albeit gentle, to get you back to work. Launched in December, the tool is still in its early stages, releasing updates and building up Limitless for Safari, Firefox and mobiles.