I've always wanted to be associated with causes that have to do with education and children. Be it donating books or assisting a child's formal education. I deeply believe that for a society to reach anywhere, for a kid to achieve anything, sound education is a requirement. Which is why I completely and with passion recommend this wonderful initiative that my ex-Bangalore friend Anand, now in Kalap, a tiny village far away from roads and electricity, has started. He shifted base a few years ago and through wonderful media as well as social media coverage, is bringing sustainable tourism and increasing everyone's income and lifestyle in the village. His  new initiative is a school he's opened as part of Kalap Trust, to improve the standards of education in Kalap. And I fully support the project.
Educate a child.
They need sponsors for 60 more kids. Open up your hearts and wallets. I personally vouch for the genuineness of this project. It's made with a lot of love and passion, so please go ahead and donate. Write back to me if you've donated and I will send you a signed-copy of Cult of Chaos! For love needs to be shared. Here are the details.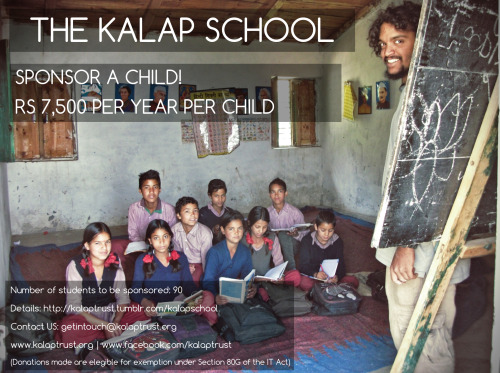 DONATE NOW: https://notforprofit.in/campaigns/sponsor-a-childs-education-at-kalap/
UPDATE: 30/90 kids sponsored as of 04/09/2015 
The Trust is setting up a school in the village. The purpose of this is to have a good skilled teaching professional assess the gaps in the government education system and fill them. This effort will run in parallel with the government school everyday after regular school hours, and full-time on holidays and during vacations.
The biggest shortfalls the school aims to address:
English language learning

Basic science and math education

Helping children with their regular school work, which parents being uneducated are unable to do
The Plan:
– The Trust will employ one full-time teacher, with either formal teaching qualifications from reputed universities or at least 3 years of full-time teaching experience in a leading school.
– Children will be split up into learning groups after an assessment process. They will then attend classes in batches every alternate day.
–  The idea is to have each batch small in number so that maximum individual attention can be given.
– The teacher will also visit and work with children in the isolated settlement of Unani.
Backgrounder on education scenario at Kalap:
The village panchayat has two government schools handling upto the 8th standard level. One in the main village is attended by 60 children and another in the settlement of Unani is attended by 30 children. Thus the total strength is 90.
Being such a remote location and thus the attendant lack of supervision, the quality of education imparted by the school is abysmal. Often the teachers vanish for days together. Further the school infrastructure is in a dilapidated state.
The children especially suffer when they move to study in the cities later in their academic life. They realise the inadequacies of their skill levels.
The Trust has explored ways to work to work with the existing government human resource and physical infrastructure. But it has proven next to impossible to cut through the bureaucratic framework and find a solution that can be implemented.
The Trust has instead decided to setup an independent effort, through which we will have clearly quantifiable returns. Further we feel that if through an independent effort we improve the children, it will make the government school teachers work harder. Smart kids need hard working teachers.
Employment and training opportunity for local people:
One village youth will be appointed as a full-time assistant to the teacher. If the youth develops the aptitude, the Trust is willing to fund his/her development into a qualified teaching professional in the future to serve the needs of the community.
The Costs:
It is estimated that this project will cost in the region of Rs 6,75,000 per year.
That is, Rs 7,500 per student per year
HOW TO DONATE:
GOTO: https://notforprofit.in/campaigns/sponsor-a-childs-education-at-kalap/
(Note: We expect the Administrative, Legal and Accounting Costs to come down significantly from FY 2016-17 as they are shared by more programs of the Trust)
Sponsor a child and plant a fruit tree!
We have been inspired by a few projects we have seen over the last few days!
It has been of particular distress over the last few years seeing fruit bearing trees chopped for firewood at Kalap.
Thus we have decided that this is a great opportunity to inculcate in the young children, the future residents of the village, the value of fruit-bearing trees.
For each donation made and being made towards sponsoring a child, a local fruit bearing tree will be planted and nurtured by the child in his/her own field in the village!
In the spring of 2016 we will plant saplings of walnut, peaches, plums, wild apricots, citrus and more! Each tree will have a plaque in the name of the donor.
Donor support:
We will be preparing documentation of every child enrolled in the school. Donors will be able to pick a child and track their progress through the year.
DONATE NOW: https://notforprofit.in/campaigns/sponsor-a-childs-education-at-kalap/
UPDATE: 30/90 kids sponsored as of 04/09/2015
For any queries, contact us at getintouch AT kalaptrust.org
===========================