Forget pubs, cafés, golf courses and cinema theatres. Dating, therapy, networking—it's all happening as you sprint to fitness
Two years ago, Genieve Bodiwala saw Sandesh Shukla, 31, at a runner's bash in Mumbai and fell in love. "I knew I wanted to marry him at that moment. From then on, I plotted to make him fall for me," says the 32-year-old, who has participated in one marathon and 13 half marathons. Since they were both passionate about running, all she had to do was join the same running group, Mumbai Road Runners (Mumbairoadrunners.com), and then create a subgroup on WhatsApp to coordinate drills, go on treks, and spend time with him and a few other friends. "One day, while we were running, I asked him out," says Bodiwala. Shukla and Bodiwala, who got married in December, did a 4-hour trek and a short run on Yala beach, Sri Lanka, the day after their wedding to celebrate.

BONDING ON THE TRACK
Running, the new hangout activity, not only helps bring couples together but also keeps them together. A few years after their marriage, Bengaluru-based Jyothsna Reddy Bathula, 31, and Rahul Tripuraneni, 34, got busy with children, work deadlines and Tripuraneni's parents, who live with them. "We just didn't have enough time for each other," says Tripuraneni. "At one point, we were worried about our relationship." The couple decided to do something and zeroed in on running, since "Bangalore as a city is so pro-running". For more than six months now, they've been getting up early and running 5km together while their three- and six-year-olds play in the park. "We are fitter, more energetic and spend time talking to each other," says Bathula.
For many youngsters who are moving cities, running is a way to meet new people. Jay Ashar, 29, who works in the field of knowledge management, moved from Hyderabad to Mumbai. "Shikhsha Shah, a colleague from Hyderabad who had moved at the same time, asked me to join running and I did," he says. It was during the long training periods prepping for a marathon, and volunteering activities, that Ashar got to know Shah better. "I used to take a train from Dombivali to Powai on Sundays just to train with her. If it hadn't been for running, Shikhsha would've remained a colleague. Now we're best friends," he says.
THE CULTURE OF A GROUP
Giridhar Ramachandran, who has been studying social groups like running clubs at the Indian Institute of Technology, Madras, since 2013 as part of his doctoral research at the department of management studies, compares these groups to gali nukkads. These spaces, which have all but disappeared from the big cities, allowed people to meet, away from home and work. "Running clubs, a recent phenomenon, are the new nukkads," says the 40-year-old. "In these spaces we don't play a specific role, of an employee or a spouse, but are just there." Ramachandran, who has interviewed people from various groups in Chennai, Bengaluru and Pune, says these clubs work as support groups too.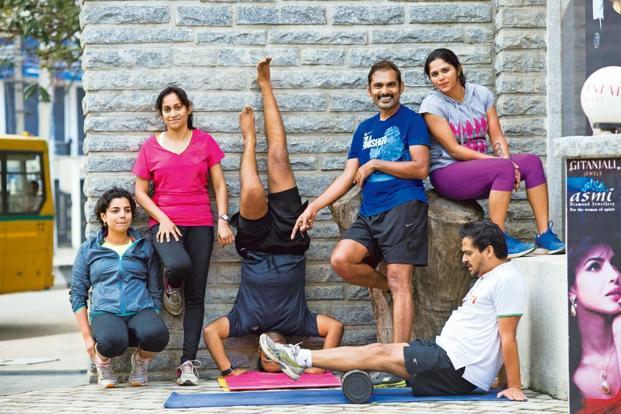 Narayani Venkatesh Dixit, 40, experienced this first-hand when she took the painful decision of sending her two children to the US to stay and study with her ex-husband. "It was a hard decision for me and if I went to a family member looking for a shoulder to cry on, they would turn to me and ask, 'Who told you to send them away?'" says Bengaluru-based Dixit. People in her running community at Protons Running were, however, supportive. They did not offer unsolicited advice or ask questions, but they were there whenever she needed help. It was the same community which helped Dixit earlier last year, when she was looking for a job change. "I got a lot of referrals from my buddies. People connected me to their HR teams, to senior folks in their companies," she says. Two years into the sport, Dixit counts her running friends at Protons Running as her best friends. Ramachandran has come across this high trust level in groups across cities—attributable perhaps to the fact that no one in the group is competing with another. "Everyone shares the same pain together and aims for the same goal, so they all open up to each other, support selflessly and form a strong bond," says Ramachandran.
BUILDING NETWORKS
Social running groups don't just help people find jobs, they also help them expand their professional network. Bhumika Patel (right) with her running buddies at IBM. Photo: Hemant Mishra/Mint Five years ago, Bhumika Patel, a senior manager at IBM's Bengaluru facility, started an informal running club. "IBM is a vast company, so these events help us get to know our colleagues from different roles, people who you won't interact with in your daily work life," says the 40-year-old. Though she started running for fitness, it has begun helping her in her role as a senior manager too. "Because of the club's activities, I've become famous within the company. People recognize me, and I can get different teams to help me in a task," she says….
==============
First published in Livemint.com. Read the complete article here.
Even though this was a hurried article, it was one of most interesting ones I did recently. I think because I spoke to so many 'normal' people rather than experts and got frank, strong, raw opinions. On another note, a friend of mine Kanishka, wrote this fabulous piece for the same section on trial running (he's the one who got the running bug into me too). Don't miss it.