These budget tablets actually deliver on performance as well.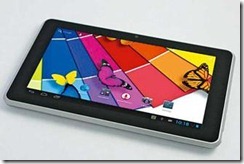 From Google to Apple to Acer and our home-grown Micromax, Karbonn and Zync, every tech company is hell-bent on putting a touch screen in your hands. According to a report by the Manufacturers' Association for Information Technology (Mait), the country's tablet PC market is expected to grow to 7.3 million units by 2015-16, up from 1.7 million units currently.
As if in anticipation, there are more than 30 new tablets in the market. The good news is that you have a tablet for every budget in the desi market today. The bad news? Most of them might not really work the way you anticipate. Don't worry though. We've gone through the options to pick out the most useful ones.
Wammy Desire
There are many desirable things about this new product from a relatively new Indian brand, Wicked Leak. The Desire comes pre-loaded with Android 4.1 or Jelly Bean, which has a much better interface for tablets. High-memory apps on the platform promise to never lag with an ARM Cortex A9 dual core 1.5 GHz processor and 1 GB RAM. The 7-inch touch screen is Wi-Fi enabled, has an HDMI port and 8 GB internal memory, expandable up to 32 GB. The box comes pre-loaded with a screen guard, a capacitive pen and a micro USB to USB cable. Even with the 800×480 pixel size, which has now become a regular in 7-inch budget tablets, the screen is vibrant with colour and movement.
Price: Rs.6,499 (plus taxes)*
Available at: www.wickedleak.org
Videocon VT-71
A late entrant to the 7-inch tablet space, Videocon's VT-71 is a decent budget tablet with one feature that makes it stand out. It comes with an HDMI cable, which means you can attach it to the biggest screen in your home, your telly. Feature-wise, VT-71 runs on Android 4.0 or Ice Cream Sandwich with a 1.2 GHz processor and has a 4 GB memory which is expandable to 32 GB. A mere 512 MB RAM is a bit of a disappointment but it more than makes up for this with connectivity and free HDMI and on-the-go USB cables in the pack.
Price: Rs.4,799
Available at: www.flipkart.com
UbiSlate 7C+
This budget tablet from the makers of the humdrum Aakash 2 is a good option in the price category. 7C+ is a lightweight, 7-inch tablet running on Android 4.0 and powered by a 1 Ghz processor with 512 MB RAM. You can connect to the Internet via Wi-Fi and GPRS and it also has a SIM card slot available, but there's no Bluetooth. The box is pre-loaded with a micro-USB-to-USB adaptor to access the Internet via a 3G dongle. It has 4 GB internal memory, with a microSD slot. Though the screen is not rich in colours, it performs smoothly.
Price: Rs.4,999
Available at: www.ubislate.com
Byond Mi-book Mi3
Pune-based company Byond Tech Electronics entered the market in October with a range of touch-screen products. Our favourite in the range, Mi3, comes with an 8 GB inbuilt memory which can be expanded to 32 GB with an SD card. The capacitive touch screen with kinetic scrolling is loaded with the usual Android 4.0, 1.2 GHz CPU, and 1 GB RAM. You can connect to the Internet through Wi-Fi or a 3G dongle. The tablet comes inbuilt with other Indian language apps as well as a back camera and a front camera (2 MP and 0.3 MP). The difference lies in the fact that it has 3D video and gaming support and is bundled with 3D goggles in the box. For addicts of 3D, there's nothing cooler.
Price: Rs.6,119
Available at: You can find retailers in your city at http://byondmibook.com/ because it's currently out of stock online.
Zync Z1000
Bigger is always better, especially when it comes to a touch screen. Indian company Zync has come up with a 9.7-inch Android tablet with resolution of 1,024×768 in a budget that won't lead to yet another EMI. The 3G-capable tablet is loaded with…..
Read the complete story on Mint website here.