From phones that work underwater to cloaks that will protect your devices in a deluge, we've got you covered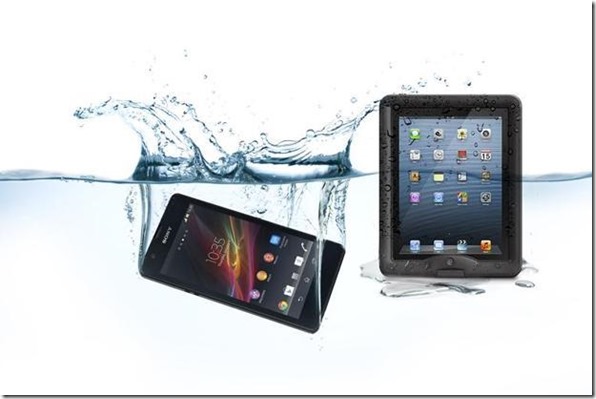 The skies rumble ominously. You look up in terror, knowing that this rain is sure death for the little black gadget in your hand. With panic, you hide your smartphone, coming between it and the rain, wiping its screen clear of tears.
All that gadgetry, all the chips and the delicate units, everything that cost you thousands of rupees, will turn to junk if those few drops of water hit it.
The monsoon has stopped being fun. Or has it? We list gadgets that can not only bear a few drops of rain but also jump into the pool with you.
Olympus Stylus TG-2
Tough weather screams for a tough camera to record it. The Olympus Stylus TG-2 is a mini tank of a camera which can survive in -10 degrees Celsius temperature, a fall of 7ft, and a weight of almost 100kg on it. It can also survive 50ft underwater.
The camera is meant for rugged, adventure hogs who love to be outdoors, be it rain or storm. It comes fitted with a high-speed, bright lens which allows good pictures in low light and high-speed action shots without blurring.
Plus, it comes with an inbuilt GPS and e-compass to throw some statistic on that perfect shot. And with 12 MP resolution and 4x optical zoom, you will get many good macro pictures as well.
Rs.22,999, at Olympus dealers across the country. It will start selling in July.
Stash Shorts
Become rain-ready by stashing all your precious gadgets into the ultimate waterproof pocket created for a pair of shorts. Stash Incorporated tried to raise funds to make these shorts through the online funding platform Kickstarter.
While the project couldn't raise funds, the shorts got a lot of media coverage for their patented waterproof pocket, and the company was able to raise the money independently.
Stash Incorporated is now producing and dispatching these shorts. The pocket is attached to the interior of the shorts and is closed with a sealproof cap.
$69-75 (around Rs.Rs 4,000-4,350) per pair, at Facebook.com/StashIncorporated. Shipping charges extra.
Waterproof Kindle Paperwhite
If you love to read in the rain, the Waterproof Kindle is the thing for you. Waterfi, the company behind the waterproofing, sells a waterproofed version of the Kindle Paperwhite which will make it safe even 210ft under water, forget a few or more splashes of raindrops as you sit in the rain and read.
The Paperwhite Kindle is one of the most advanced e-readers out there, with a backlit screen with which you can read in the sun. It has eight weeks of battery life, built-in Wi-Fi and space for about 1,100 e-books.
Waterfi adds a whopping $80 (around Rs.4,640) to the bill to coat it with its patented dual protection, which insulates it against corrosion and water, but then, you can take it anywhere, from the pool to the ocean.
$219.99 on Waterfi.com; $35 extra for international shipping.
Aquapac Wet and Dry Backpack
Keep all the electronic stuff safe and sound in this waterproof backpack. The bag comes with internal pockets, a key pocket, and external pockets to keep a bottle.
The fabric is TPU (thermoplastic polyurethane) coated with taped seams so water cannot seep in, even if the bag is submerged.
It also comes with an internal pocket so that you can separate dry and wet things (or dirty and clean things) if required.
Rs.3,990, at www.outdoortravelgear.com .
READ THE COMPLETE ARTICLE ON THE LIVEMINT.COM WEBSITE