Bid your flabby body goodbye. Our celebrity fitness experts create 10- to 15-minute workouts with one aim in mind: a fab body for you in 2011. By Shweta Taneja
"All you need is 15-20 minutes of any hot and sweaty exercise to keep yourself fit," says Delhi-based Reebok fitness trainer Nisha Varma. If it is tough for you to work out during the week, "make up on weekends with a 45-minute session of walking, jogging, swimming, cycling or dancing".
Our fitness experts understand that many of you can't take an hour out of your busy schedules every day, so they have created made-to-order workouts which will take less than 20 minutes a day to get you into a fab shape. "The idea is to be regular at the regime you pick up and do it every day," says Mumbai-based yoga expert Tonia Clark, who believes a lot can be achieved if you make sure you exercise for at least 15 minutes early in the morning daily. "You can easily get a total body workout, body stretch as well as peace of mind," she says. Here's what you can do.
YOUR 2011 RESOLUTION: Tone arms, shoulders and strengthen neck muscles

OUR EXPERT: Nisha Varma, a Reebok master trainer and fitness expert based in Delhi who has authored 'Yoga for Back Problems' and 'Yoga at the Work Place', says simple strength training two days a week can tone up arms and shoulders.
WHAT SHE SAYS
You won't see a significant difference in your body but yes, the chicken wings will disappear. You will need a pair of dumb-bells of a weight that is a challenge for you (should be at least 1kg).
HER WORKOUT
•Bicep curls: Stand with feet shoulder-width apart and hold one dumb-bell in either hand. Lift the dumb-bell towards your shoulders as you exhale. Lower it slowly to starting position as you exhale. Make sure you maintain the correct posture through the full range of movement. Alternate hands and do one set of 20 reps.
•Triceps extension: Stand with legs shoulder-width apart, belly in and shoulders pulled back and down. Hold the rod of one dumb-bell with both hands and lift it behind your shoulders in the middle of your upper back. Your elbows point towards the ceiling, arms are close to ears and the dumb-bell is resting between your shoulder blades. Exhale, lifting the dumb-bell towards the ceiling. Lower the arms slowly as you inhale. Do one set of 20 reps.
•Shoulder front raise: Hold a dumb-bell in each hand. Stand with legs shoulder-width apart. Lift both arms forward till shoulder level as you exhale and lower the arms as you inhale. Do not drop the arms suddenly. Do one set of 20 reps.
•Shoulder lateral raise: Hold a dumb-bell in each hand. Lift both arms to the side of your body till shoulder level. Inhale as you lift and exhale as you lower the weights.
•Finish the session with shoulder rotations forward and back eight times each.
A WORD OF CAUTION
Warm-up is a must before any exercise programme. You also need appropriate shoes and apparel. Before you begin, get a basic medical check-up.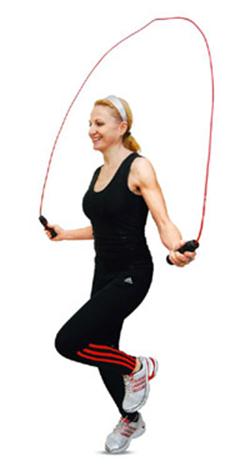 YOUR 2011 RESOLUTION: I want to strengthen my heart

OUR EXPERT: Vesna Jacob, a Pilates expert based in Delhi who runs Hypoxis, a wellness clinic.
WHAT SHE SAYS
There are many ways to improve your cardiac health. Walking, jogging, running or hopping are some of them. But if you haven't done cardio for a while, you will need to start small. Skipping rope is the most fun as well as effective way to tone up the entire body. Build up your stamina by starting slow and sticking to the routine regularly. You can increase the number of sets (maximum, four) per session as you build your stamina.
HER WORKOUT
• Start with a couple of minutes of good warm-up and stretching. This will make sure that you don't strain or pull your muscles.
•Stage 1: Keep an even tempo of skipping throughout the workout, and finish off at a faster pace. Do this for cycles of 5 minutes.
•Stage 2: A couple of weeks into this regimen, change this to interval training: Follow a 30-second fast and 60-second slower skipping rhythm in cycles of 5 minutes.
•Stage 3: The next stage is to do 30 seconds fast, 30 seconds slow, and then 60 seconds fast, 30 seconds slow, and so on for cycles of 5 minutes.
A WORD OF CAUTION
If you have to gasp for air or feel dizzy, or experience any chest pain, you need to stop immediately and have yourself checked by a doctor.
YOUR 2011 RESOLUTION: Lose the beer belly

OUR EXPERT: Manish Tiwari, who teaches yoga to celebs such as Katrina Kaif and Sridevi, at his gym Cosmic Fusion, Bandra, Mumbai.
WHAT HE SAYS
A beer belly is a direct result of the excessive sugar in your diet. Ideally cut down on the consumption of beer. In case you still feel like having beer, remember to have darker beer as that's richer in nutrients and antioxidants and has lesser sugar content.
HIS WORKOUT
•Shalabhasana: Lie flat on your stomach with your legs together, hands by the side of the body. Now raise your arms, chest, head and legs simultaneously, and hold for about 2-5 seconds. Then lower. This engages your abs fully.
•Setubandhasana: Lie flat on your back with your knees bent and your feet apart. Place your arms flat on your side, and lift your hips and back off the floor while leaving your head, shoulders and feet on the floor. Hold for about 5-10 seconds and do 10-15 reps. This burns your belly fat.
•Yoga crunches: Finally finish off with some yoga crunches. Lie down on your back, put your hands behind your head to support your back and using your abdominal muscles, push your legs up towards the ceiling, lifting your buttocks about 2-3 inches off the ground. Do 15-20 reps about three times a week.
A WORD OF CAUTION
Be careful when doing these poses if you don't have any earlier yoga experience. You could injure yourself. Go slow on each one and keep breathing normally.
YOUR 2011 RESOLUTION: A speedy total body workout

OUR EXPERT: Tonia Clark, a yoga expert from Canada who is based in Mumbai and has worked on a DVD with Lara Dutta called 'Yoga Recovery and Rejuvenation'.
WHAT SHE SAYS
Start with a Surya Namaskar or Sun Salutation, which is a full body warm-up of 12 asanas. Do five to start with and follow with the workout listed below. This will cleanse your body, give you a nice stretch and soothe your mind.
HER WORKOUT
•Vrikshasana: Shift the weight to the left leg. Lift your right foot above the left knee, pushing the sole of the right foot into the left thigh. Bring your hands into prayer position. Shoulders relaxed, jaw soft and gaze fixed on one point, inhale and raise arms up to the sky. Hold the pose for at least five full cycles of breath.
•Pawanmuktasana: Lie on your back, legs straight out. Bend your right knee into your chest and hug your thigh, holding it with your arms. Pull the knee towards the right shoulder, keeping the left leg active. Feel a pinch in the right hip crease. This will open up the hips, cleanse your digestive system and eliminate toxins.
•Shavasana: Lie on your back with your legs straight and apart, your feet relaxed. Place your arms alongside your body, a little away, palms facing up. Roll your shoulder blades in towards each other. Close your eyes and just be still, breathing deeply and relaxing.
A WORD OF CAUTION
First train with a yoga teacher.
For the complete story, click here.