Bring in some cheer at a lacklustre get-together with the help of your smartphone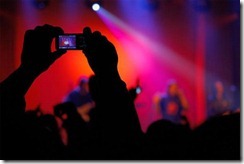 It's that time of the year again—when long-lost aunts, bosses you can't stand for more than 5 minutes in a day, and colleagues whose names you don't remember invite you to parties you cannot always refuse to attend. So you dress up and head out for evenings that are full of forced festive cheer. Instead of skulking in a corner and morosely nursing a drink, here's how you can convert your phone into a one-stop entertainment hub and perhaps scrape through the dull dos. And no, our entertainment means are not restricted to watching a movie, checking notifications or playing a game on a smartphone.
Break the ice
It's easier to slip into the virtual world in a place where you are a stranger or snoop around other people's lives on social networks. Instead, try something a bit harder—like starting a conversation with someone new. Take banter cues from Conversation Shaker (iOS only) which offers interesting topics based on different situations. Shake the phone to see the next conversation starter. If your style is witty, head on to Hypotheticals, an iPhone app with a huge collection of funny conversation starters.
Conversation Shaker and Hypotheticals are available for free on iTunes.
Gaze at the stars
Not able to come up with clever quips? Get people to look at the night sky instead. Head out into the open to see all the constellations you have heard of (and some you haven't) with Google Sky Map (www.google.com/mobile/skymap). Sky Map turns your Android-device into a window to the night sky. All you need to do is launch the app and point it to the sky. The app reflects the night accurately in terms of stars, constellations, planets, meteor showers and more. You can zoom in to the Sky Map, turn on the night mode so your eyes don't need to adjust and even "time travel" by seeing how the same sky looked in another time and date. The perfect way to happily spend time without saying a word.
Google Sky Map (www.google.com/mobile/skymap), available for free on Google Play.
Meet a stranger
There are others out there in the party, equally socially-challenged, bored and looking for some company. The Locals' button in MeetMe, a proximity-based chat app and social network, uses your location through GPS to tell you of people in the same area as you. Start chatting and you might just hit it off. If you don't find anyone in your party on the app, try Twoo, yet another app which helps you meet new people using your GPS. Play a game, hangout in the virtual world and you might just want to meet in the real one. Or choose to keep it anonymous with WhosHere, which allows you to chat with people nearby without revealing your phone number, email or instant messaging (IM) address.
MeetMe and Twoo are available for free on iTunes and Google Play. You can also visitwww.meetme.com and www.twoo.com. WhosHere is available for free on iTunes and Google Play.
Swap faces
A good laugh can turn a boring party into a fun one in seconds. Click a picture of the people in front of you and swap their faces in the photo. Face Swap automatically detects faces and makes it easy for you to switch, rotate, and adjust the heads on other bodies. If you prefer replacing faces with zombie cartoons, do it with Trollolol, which automatically detects faces in pictures and swaps them with troll and zombie faces. Share the images with the new friends you make.
Face Swap is available for Rs.110 on Google Play and Amazon, and for Rs.55 on iTunes. Trollolol is available for free on iTunes and Google Play.
Have some fun with drinks
If the party is so boring that there's no other option than to give in and get drunk, why not drink in style? Ask the bartender for the list of spirits available and then choose the most exotic cocktail name for him to make. Take help from Mixology Drink & Cocktail Recipes (www.mixologyapp.com),which helps you browse through more than 7,900 cocktails, martinis, shooters, jello shots, hot drinks and punches. There's a Random Drinks tab if you want to explore drinks and recipes and a Liquor Cabinet tab that lets you enter all the liquor you have and then gives you a recipe accordingly. Or choose to get drunk in spy style with The Covert Cocktail(www.spymixology.com), which catalogues…
Read the complete article on Live Mint website