Augmented reality apps raise the bar by putting a virtual layer of information over your real world.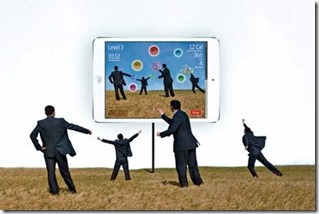 You see the Taj Mahal, point your phone at it, and facts about it come up on screen. Or, through the screen, virtual spaceships and robots can dance in your empty living room. You can also take pictures with them.
Augmented reality (AR) puts a virtual layer of information over your real world. It supplements your everyday life with information, images, sounds, and other sensory information from your device.
It's been around for a while now, but we're still figuring out how to use it. Google Glass has given us a glimpse of what could be possible with augmented reality when brought straight to your vision, without the need to hold up your phone. Microsoft has patented augmented reality glasses that will enhance sports and live events with streams of information directly beamed in front of the user's eye (including action replays).
But till these devices are available, here are some of the AR apps you can use on your smartphone.
HP Live Photo
Send a postcard with an embedded video using this app—you can print a photograph that comes alive when someone holds their smartphone over it. To do this, you need an iPhone, a video and the HP Live Photo app, and an Airprint-enabled HP printer. Choose the video and then pick a frame to print, using the app. The app prints it with a marker, so that when the image is scanned by another iPhone with the app, the video will play.
Free, iPhone only.
BallStrike
Combining fitness with AR, BallStrike makes you kick and punch virtual balls, keeping you fit. Once the app is installed, stand in front of your device's front camera and you'll show up on screen, along with your surroundings. Just make sure the room's well lit, there's enough space for free movement, and you stand at a distance from the device.
The screen will fill with colourful balls, and you have to hit them—each hit is worth points, but you have to avoid obstacles like bombs, so you're going to have to twist, turn and jump to hit every ball. The app detects motion using the camera, and uses that to calculate the calories burnt after each of the 12 rounds. It can also take pictures of the game that you can share online later.
Free, on iOS; Android and Windows Phone 8 versions are coming soon.
Reading Lens
Reading Lens is a simple AR app that helps people who need reading glasses. If you've forgotten your glasses at home just pull out your phone and point it at the text you want to read—the app will automatically enlarge the text, and can even use the phone's flashlight as a lamp in case the lighting is poor.
$0.99 (around Rs.55), on Windows Phone 8.
Nasa's Spacecraft 3D
The US National Aeronautics and Space Administration's (Nasa's) Spacecraft 3D is amazing. First it lets us see live images sent by the Curiosity rover on Mars. Now, it takes AR a step further, letting you imagine you are the captain of one of the spacecraft Nasa operates across the solar system. Choose from Curiosity on Mars, Grail on the Moon, Cassini on Saturn, Juno cruising to Jupiter, Dawn cruising to Ceres, or Voyager, which plans to leave the solar system. Once you have decided which one, print an image of Nasa's AR Target on a piece of paper and point your device camera at the target.
On your screen, the paper will turn into a spacecraft that you can control. See the robotic explorers, raise and lower one of their robotic arms, manoeuvre the high-gain antenna, and do other fun stuff. To add to the fun, the app has an option where you can take your photograph with the spacecraft by putting yourself in the picture.
Free, on Android and iOS.
Ingress
A game created by Google, Ingress is about a war between two factions, the Enlightened and the Resistance. You have to choose your side at the beginning of the game. Once you have, your immediate environment and space (you could be anywhere in the world) becomes your gameplay. You have to physically reach a public space which is designated as a portal. The portal could be held by you or your enemy. If it's an enemy spot, you hack into the portal and make it yours. As you play, your phone directs you to the portals through GPS and leads the way with pointers and maps.
The objective is to collect objects around you, tap sources of energy or capture enemy territory. As a player you can send photos of locations to Google to be included as a portal, but there's no guarantee that it will be, so you might not have many currently in your city to start playing. But it's an exciting new game nonetheless. Ingress is in closed beta right now. You can request an invite at Ingress.com. It will be available for free on Google Play soon.
Free (limited availability for now), on Android.
Read the complete article in HT Mint.
■ ■ ■ ■ ■ ■ ■ ■ ■ ■
Live-browse your world
Most of the existing AR apps have fun uses, or are very helpful in highly specific scenarios, but they don't change your day-to-day life. Apps like Wikitude and Layar, which can change your life, are being developed, but not too many people know about them yet.
If you are in a new neighbourhood or exploring a new city, instead of using Google to find something to do, look through an AR browser and you will find restaurants, monuments, hotels and other places of interest. Apps like Wikitude, Layar, Junaio and Nokia City Lens throw live information on your device's screen. All you need to do is to point your camera in a certain direction and everything, from a coffee shop to an ATM, will pop up on your screen.
Read the complete article in HT Mint.