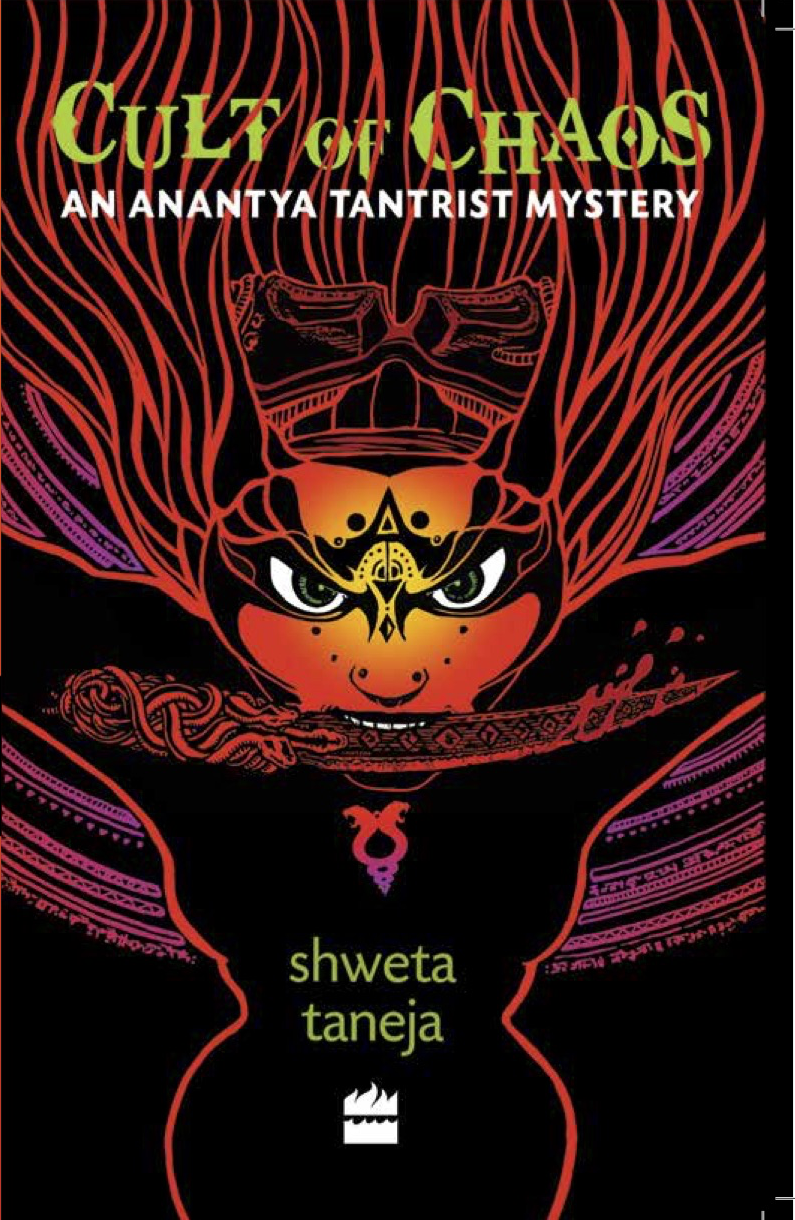 This was just sent by Harper Collins team. It's the cover of Anantya Tantrist's first adventure in book format and I feel butterflies the size of dinosaurs in somewhere in the deep dark pits of my being. So I wanted to distract myself by telling you all a story. (For that's what stories are for, no?) This one is the story of an incredible artist and his various kindnesses.
On a lazy Sunday a year ago, I headed to Leaping Windows (now unfortunately closed) with a twinkle in my eye. Two weeks before that, I had just finished reading one of the most amazing graphic novels in recent times, Moonward
. I had stolen it from Jerry, who runs The Jam Hut in Hennur. My husband's a drummer and I accompany him with a book sometimes. Much to my delight, that sunny day, I found a signed Moonward in Jerry's little library. In it, I discovered the wise dragonfly I had first seen in the old Mojo's pub off Residency Road.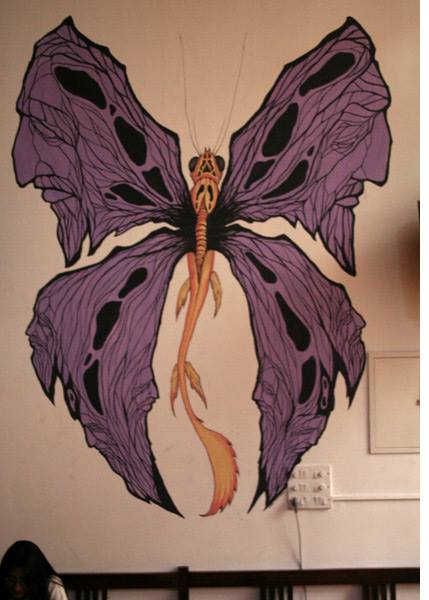 Mojo's was the pub I headed to in my first weekend in Bangalore. The only thing I remember of old Mojo's with fondness (an otherwise seedy bar where you have to rub your eyes to see, get soggy popcorns and the loos always smelled of pee) were the frescoes done by Appupen aka George Mathen. His lovely frescoes, especially the artwork above, were the first thing that had made me feel part of the city I call my own now, Bangalore. 'It's the same artist,' I exclaimed, touching the old, wise dragonfly guy.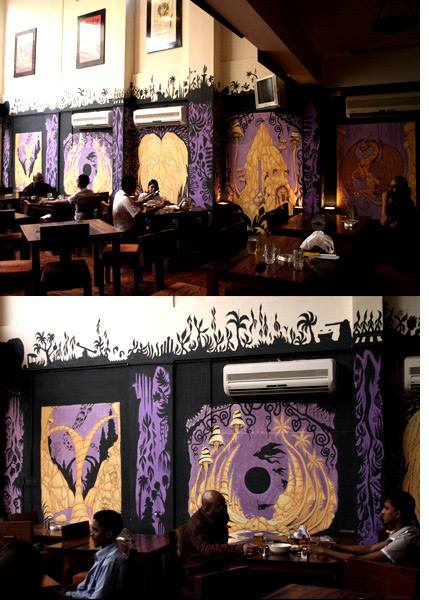 Moonward
 turned out to be a similar journey of a creature in a fantasy world called Halahala, both marvellously witty and socially sharp. I hogged it in a day, delighted, thrilled and left with an unfinished feeling. So I went online looking for its creator and a copy for myself. After I hounded him over Facebook, George agreed to meet me to sign a copy of his works.
So the Sunday mentioned above happened. As I marvelled the frescoes George had  created at the little café in Indianagar, he  walked in, a kind fellow with a sparkle in his eye and a self-deprecating smile. He signed two copies of his Moonward
  and Legends Of Halahala
 (one for me, one as a wedding gift for pals Thej and Anju) and then spend a whole hour with me, telling me tales of literary festivals, how he draws the spectacular graphic novels (by getting a bit high on mutton and other stuff) and how much he loves playing the drums (he was part of the popular Bangalore-based band Lounge Piranha). I heard his tales, full of wisdom and wit and laughed and giggled. A cup of coffee later, I realized it was more than an hour that we'd been chatting, that I had poured onto him ALL my hopes and fears  about publishing Anantya Tantrist's first book. Secretly, I so wanted him to draw her out but how does one ask such a favour from such a big artist? So I didn't. I left instead because I had stranded a dear pregnant friend, forgotten all about her, while I was there, chatting with George. But being evil is worth it sometimes.
A few months happened and Harper Collins after a long haul said yes to publishing Anantya's series. I was superbly happy. When my editor asked me who should do the cover, I knew, I knew I had to ask George then. So I did and crossed my fingers, because HC couldn't pay that much to an artist like him!
But George, though he might say a vigourous no to being labeled with the the term, is super-kind. So he agreed to draw Anantya's face, to recreate her as a goddess, as Kali. The result was completely different from what I had imagined and the brief I had doled out (and I am so thankful for that!). When I was writing Anantya Tantrist's book, I imagined her face and body and expressions in many, many ways. But it was never, ever like this. I was surprised, gutted, shocked when I saw Anantya drawn like this. And that's the magic of George's pen. His paintbrush slashed perceptions and prejudices and went to the very core, cutting Anantya to the bone. She would like that.
My heart is still beating, because I love it so much and can't wait for reactions to Cult of Chaos, Anantya's upcoming book in December. I am lucky to have found such kind people in the city I belong to now. Thanks, George, for your kindness to a stranger.
Connect with Appupen online on Facebook.
 George's older art can be found on his personal Facebook page, here, here and even here. I highly recommend his latest graphic novel, Aspyrus  (Amazon // Flipkart) which is a fascinating exploration of silent comic.