Oh my.  This is the fourth time the kind girls over at MetroPlus, the magazine of The Hindu, have done a story on me (see here, here and here) . And I remain amazed at how everyone I seem to know reads this newspaper in Bangalore. I am flooded with messages, tweets, emails and phone calls everytime a story comes out.
Mini's interviewed me twice now and every time, we giggle together as friends and as people who enjoy poems about old age.  She messaged me a month ago to tell me how because she was so involved in Anantya's adventure, she could  reading ignore her fear of flight (she was flying internationally). It was the best compliment ever!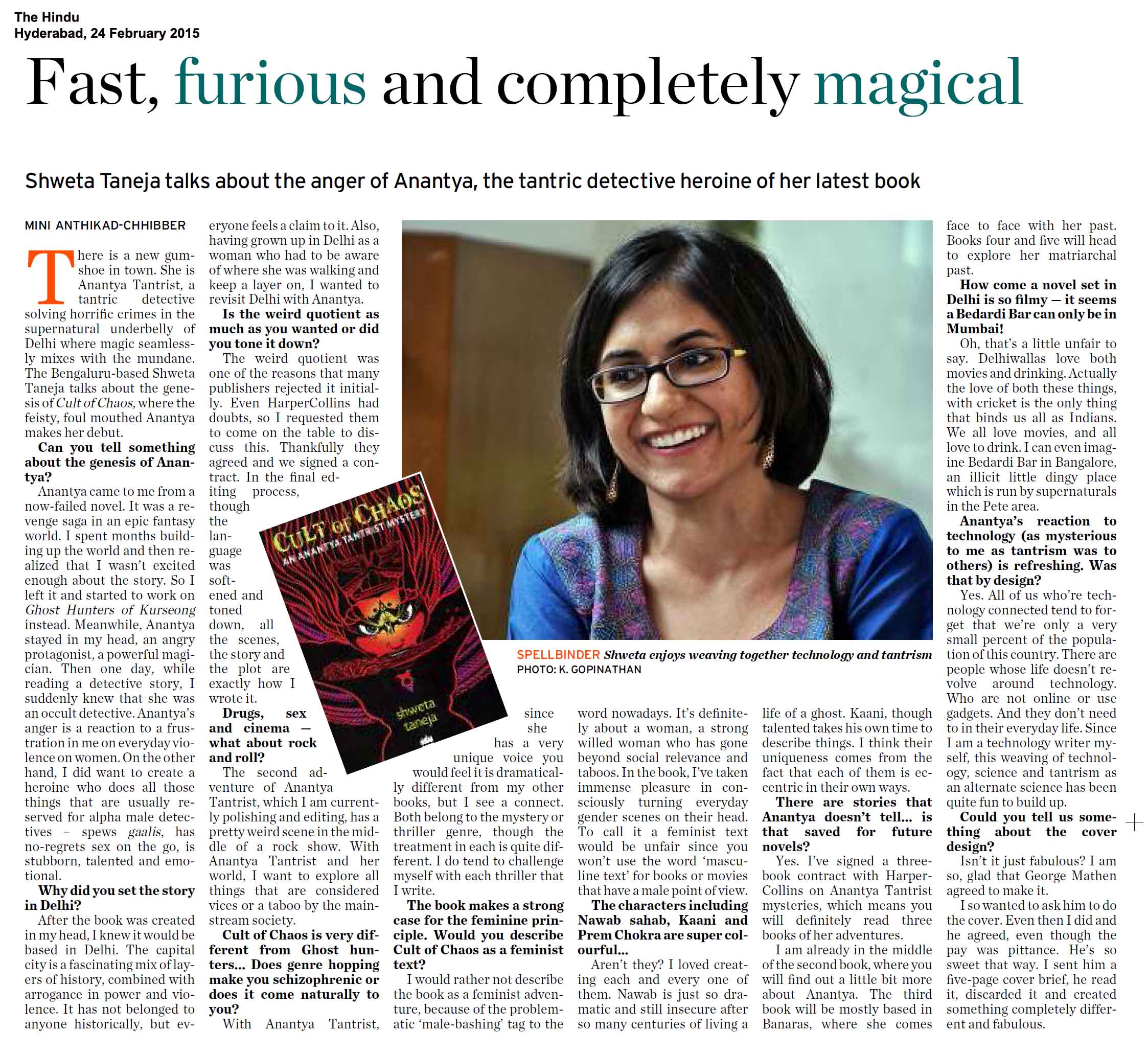 Here's the interview.
Shweta Taneja talks about the anger of Anantya, the tantric detective heroine of her latest book
There is a new gumshoe in town. She is Anantya Tantrist, a tantric detective solving horrific crimes in the supernatural underbelly of Delhi where magic seamlessly mixes with the mundane. The Bengaluru-based Shweta Taneja talks about the genesis of Cult of Chaos, where the feisty, foul mouthed Anantya makes her debut.
Can you tell something about the genesis of Anantya?
Anantya came to me from a now-failed novel. It was a revenge saga in an epic fantasy world. I spent months building up the world and then realized that I wasn't excited enough about the story. So I left it and started to work on Ghost Hunters of Kurseong instead. Meanwhile, Anantya stayed in my head, an angry protagonist, a powerful magician. Then one day, while reading a detective story, I suddenly knew that she was an occult detective. Anantya's anger is a reaction to a frustration in me on everyday violence on women. On the other hand, I did want to create a heroine who does all those things that are usually reserved for alpha male detectives – spews gaalis, has no-regrets sex on the go, is stubborn, talented and emotional.
Why did you set the story in Delhi?
After the book was created in my head, I knew it would be based in Delhi. The capital city is a fascinating mix of layers of history, combined with arrogance in power and violence. It has not belonged to anyone historically, but everyone feels a claim to it. Also, having grown up in Delhi as a woman who had to be aware of where she was walking and keep a layer on, I wanted to revisit Delhi with Anantya.
Is the weird quotient as much as you wanted or did you tone it down?
The weird quotient was one of the reasons that many publishers rejected it initially. Even HarperCollins had doubts, so I requested them to come on the table to discuss this. Thankfully they agreed and we signed a contract. In the final editing process, though the language was softened and toned down, all the scenes, the story and the plot are exactly how I wrote it.
Drugs, sex and cinema — what about rock and roll?
The second adventure of Anantya Tantrist, which I am currently polishing and editing, has a pretty weird scene in the middle of a rock show. With Anantya Tantrist and her world, I want to explore all things that are considered vices or a taboo by the mainstream society.
Cult of Chaos is very different from Ghost hunters… Does genre hopping make you schizophrenic or does it come naturally to you?
With Anantya Tantrist, since she has a very unique voice you would feel it is dramatically different from my other books, but I see a connect. Both belong to the mystery or thriller genre, though the treatment in each is quite different. I do tend to challenge myself with each thriller that I write.
The book makes a strong case for the feminine principle. Would you describe Cult of Chaos as a feminist text?
I would rather not describe the book as a feminist adventure, because of the problematic 'male-bashing' tag to the word nowadays. It's definitely about a woman, a strong willed woman who has gone beyond social relevance and taboos. In the book, I've taken immense pleasure in consciously turning everyday gender scenes on their head. To call it a feminist text would be unfair since you won't use the word 'masculine text' for books or movies that have a male point of view.
The characters including Nawab sahab, Kaani and Prem Chokra are super colourful…
Aren't they? I loved creating each and every one of them. Nawab is just so dramatic and still insecure after so many centuries of living a life of a ghost. Kaani, though talented takes his own time to describe things. I think their uniqueness comes from the fact that each of them is eccentric in their own ways.
There are stories that Anantya doesn't tell… is that saved for future novels?
Yes. I've signed a three-book contract with HarperCollins on Anantya Tantrist mysteries, which means you will definitely read three books of her adventures.
I am already in the middle of the second book, where you will find out a little bit more about Anantya. The third book will be mostly based in Banaras, where she comes face to face with her past. Books four and five will head to explore her matriarchal past.
How come a novel set in Delhi is so filmy — it seems a Bedardi Bar can only be in Mumbai!
Oh, that's a little unfair to say. Delhiwallas love both movies and drinking. Actually the love of both these things, with cricket is the only thing that binds us all as Indians. We all love movies, and all love to drink. I can even imagine Bedardi Bar in Bangalore, an illicit little dingy place which is run by supernaturals in the Pete area.
Anantya's reaction to technology (as mysterious to me as tantrism was to others) is refreshing. Was that by design?
Yes. All of us who're technology connected tend to forget that we're only a very small percent of the population of this country. There are people whose life doesn't revolve around technology. Who are not online or use gadgets. And they don't need to in their everyday life. Since I am a technology writer myself, this weaving of technology, science and tantrism as an alternate science has been quite fun to build up.
Could you tell us something about the cover design?
Isn't it just fabulous? I am so, glad that George Mathen agreed to make it.
I so wanted to ask him to do the cover. Even then I did and he agreed, even though the pay was pittance. He's so sweet that way. I sent him a five-page cover brief, he read it, discarded it and created something completely different and fabulous.
=============