Small co-working spaces are mushrooming across the country in a bid to cater to new-age entrepreneurs and freelancers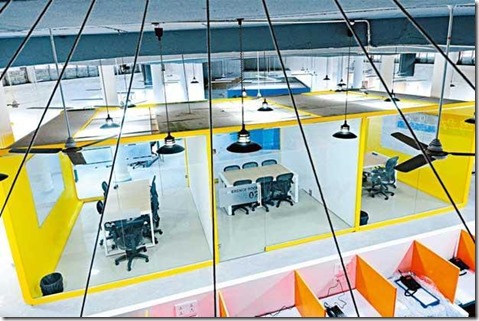 Earlier this year, Shitij Malhotra, who runs a small children's education firm in Delhi, converted his office to The Studio, a co-working space where people from different professions can gather and work from.
"I have only four people in my firm right now and it got quite lonely," says Malhotra. "With others coming to work here, there's more energy, more people to bounce off ideas with, and a chance to increase your network," he adds.
The concept of co-working, or the idea of people from different professions working out of a common office, has been building up for the last two years, with places like Moonlighting in Delhi, Bombay Connect in Mumbai and Jaaga in Bangalore, but it seems to have gained critical momentum in the last few months.
91springboard and The Studio in Delhi, The Playce in Mumbai, CoworkInGoa in Goa, Coworking Chennai in Chennai, Bangalore Alpha Lab in Bangalore—all these spaces have come up in the last six months. Malhotra says these spaces do more than just share office facilities, which is something that large business centres like the international chain Regus, BMS Business Centre in Delhi, Golden Square in Bangalore and others already offer. For an individual, both shared offices and co-working spaces cost a similar amount to rent—anywhere between Rs.2,500-8,000 per desk per month, depending on the city, the area and the type of space. What makes a difference is the space itself. "Shared offices are about paying for a desk, getting Internet, a receptionist and an address," says Malhotra, "whereas a co-working space offers a feeling of a community. It's an informal place for people who are just starting out, who are doing their own thing but also want to network and help each other out."
Gargi Shah and Shekhar Gurav, founders of The Playce in Mumbai. Photo: Hemant Mishra/Mint.
Gargi Shah, co-founder of The Playce in Mumbai, thinks the trend is the outcome of an exponential increase in the number of entrepreneurs, freelancers and people who work on independent projects, and who are looking both for a cheaper place to work from and a sense of community. Shah herself co-founded The Playce when she was looking for an office to meet her students. She bumped into the other co-founder of The Playce, Shekhar Gurav, who wanted an office for his small enterprise in online education. Together, they convinced the owner of a 5,500 sq. ft space in Mumbai, got him to join as a co-founder, and launched The Playce in November.
"We have started this space for people like us who end up working out of coffee shops and bedrooms," says Shah. She feels that other than becoming more efficient and disciplined because you are going to an "office" space every day, a co-working space also helps you to meet others like you, generate new ideas, and explore different perspectives. "When you bounce off new ideas with someone else, it helps you figure out what you want to do more," she explains.
Focused on the community
The key idea behind many of the co-working spaces is the need to create an interactive community, and a co-working space goes out of its way to encourage communication. 91springboard in Delhi, for example, has huge informal seating space in its 10,000 sq. ft office with a cafeteria, which has beanbags, games and many corners for a chat over coffee. The idea is not to just offer a desk and high-bandwidth Internet but also a community-focused collaborative environment to encourage the start-up ecosystem. "The entrepreneurial community in Delhi is pretty active but scattered, which is where our space comes in. We don't only offer a desk, but a membership that will help you to work and interact with others on a business, creative and technical level," says Anand Vemuri, partner, 91springboard.
This co-working space also offers in-house services that include executing a lease, registering a new company, executing agreements with clients, managing accounts, filing taxes, picking up and delivering invoices, public relations, etc. Other than that, it also offers funding, incubation and direction to select start-ups. "Rather than from co-working, our profits will come when we help some of the start-ups we have funded succeed through the incubation programme," Vemuri explains.
Like 91springboard, Dutch designer Marlies Bloemendaal, who plans to open Ministry of New in Mumbai in the beginning of May, hopes to offer services like setting up a company, sourcing the right manufacturer, finances, image management, marketing and legal advice aimed at expats or foreigners who want to start shop in this country. "Since I get approached often by newcomers into the country, I thought why not use that to cover the huge rent of this beautiful space?"
It was the studio itself, a quiet, elegant space in the middle of Mumbai in Lalbaug, that made Bloemendaal think of co-working. At Rs.25,000 per month per person, her space doesn't come cheap, but Bloemendaal is not aiming at freshers. Rather, her target is companies, entrepreneurs, designers, architects from India and abroad. "We are a bit of boutique," says Bloemendaal. The high-end co-working space will have an open kitchen area, a bar, and Italian coffee. Though she's yet to open, a line of possible members, ranging from a London start-up, a journalist from Barcelona, Spain, and two architects from New York, US, to graphic designers from Delhi and Pune, have already shown interest.
The next step after opening is to let out the space for small events like exhibitions, lectures, pop-up shops, unplugged music sessions, etc.
Events play an important part in bringing the community into the space and gathering co-workers. The Playce already does all kinds of events, ranging from an all-night hackathon, a music session, to a workshop on cognitive behavioural therapy, to attract different people. More than a focused approach on the kind of community it wants to build, the three co-founders are more or less letting the people who come visiting decide what kind of crowd should be invited in.
"There aren't many models around us to emulate, we are taking it as it goes," says Shah. Since the third co-founder owns this space, they save on the rent cost. "We have around two years to experiment and see what it will become." Meanwhile, word-of-mouth and community-driven events have given them 40 regular (day-wise or week-wise) co-workers in four months.
Evolving culture
The Studio in Delhi. Photo: Pradip Gaur/Mint.
According to Gunasekar Rajaratnam, who is set to launch a co-working space for friends in Chennai this week, sharing space and gossip is fast becoming an evolved work culture. "The idea is not only to share an office but to share your skills, pitch in support to each other when needed and collaborate," he says. Right now he has one other co-worker and aims to bring in four-five regular co-workers through friends and word-of-mouth so that they can create a professional family to share infrastructure costs, skills, goodwill, time, social capital, a cup of filter coffee or a joke.
Bangalore-based software entrepreneur Ahimanikya Satapathy has opened up his small office to co-working for similar reasons. To help out technology start-ups, Satapathy has been running a meet-up group in Bangalore called Bootstrap Bangalore for about a year. Opening up an office to help out start-ups was the natural next step. In December, he opened Bangalore Alpha Lab, a co-working space, in his own office. "I see lots of people who want to start on their idea, but haven't been able to and I want to help them," says Satapathy.
His space is only open to start-ups and that too if he finds them comfortable to work with. "I have been offered more rent by travel agents, call centres and a lawyer, but I have refused. This is not a business for me. I just want to utilize the extra space in my office for something worthwhile," he explains.
For most of the people who have opened up co-working spaces, it's not about making a profit. The focus is more on meeting interesting people and creating a space where everyone can thrive. "You hope that you might break even eventually," says Malhotra, "but at the end of it, running a co-working place doesn't make much financial sense. Most of us are not doing it for money but to create an innovative space. You need to make sure the space is open at all hours, the infrastructure and supply needs never stop and you eventually end up spending more time and money on it than you get out of it. But you do it, well, because you want to."
---
CO-WORKING SPACES IN YOUR CITY
DELHI
91springboard
It has a 10,000 sq. ft place with an open layout that seats 150. High speed Wi-Fi and conference rooms are for members only. A huge cafeteria-cum-hangout space, with unlimited tea/coffee, is meant for networking or events. It's open only to entrepreneurs and start-ups. Membership starts from Rs.3,999 for 12 days and goes on to Rs.6,999 for 30 days' use per person. A day's use costs Rs.499.
Visit: 91springboard.com
Moonlighting
This cooperative villa in south Delhi has a section for work and some rooms to stay. You get a desk, Internet, printing and scanning facilities, and a kitchenette. They also prepare lunch on request. Your résumé will be screened before they say yes. This comes with a fee of Rs.6,000 per month or Rs.950 for four days' use.
Visit: Moonlighting.in
The Studio
It has a working hall with dedicated space as well as a casual set-up and small conference room. Designed for 15 people, The Studio already has around eight regulars. They are looking for individuals or start-ups to join in. The charge is Rs.5,500 a month per desk with Internet.
Visit: www.facebook.com/coworkingdelhi
MUMBAI
The Playce
With 5,500 sq. ft of space in Mumbai, The Playce already has 40 co-workers ranging from journalists to tech start-ups, social entrepreneurs and programmers. It can host 120 people at a time and provides work desks, cabins, conference rooms, a seminar hall and a game room. It also has a kitchen and a coffee machine…
Read the whole article on the HT Mint website